Labour Day has come and gone, but that's no reason to feel down! Think of all the travel adventures you can plan for the year ahead. In fact, to immediately treat your post Labour Day blues, Terraficionados is featuring a last-minute private-guided luxury getaway to Nicaragua! If you travel on this luxurious escape to Nicaragua before the end of October, you will be taking advantage of an incredible promotion!

Nicaragua is a beautiful country, with its smoking volcanoes, shimmering lakes, spectacular Pacific coast, and tranquil Caribbean islands. It also boasts some of the prettiest, best preserved colonial towns in the Americas, including Granada – darling of the UNESCO World Heritage list. The food is terrific, the people are friendly, and the culture and history are fascinating. Moreover, the country is still relatively "under the radar" for tourists, so it retains its charm and authenticity while also offering some of the best boutique-style lodging in the region. Nicaragua's rich combination of warm, authentic culture and diverse nature and geography make it a treasure for travellers!
Below is the detailed itinerary of this private-guided luxury escape to Nicaragua.
Welcome to Nicaragua!
You will be met by your private driver and bilingual guide and be transferred to Apoyo Lagoon, with a stop at Catarina View Point. Apoyo Lagoon is a volcanic crater lake wedged between Masaya and Granada. Upon arrival, you will check-in to your hotel, Pacaya Lodge & Spa, where you will be staying for 3 nights.
Pacaya Lodge & Spa is a luxury Nicaragua resort for travellers who expect a unique experience and memorable service. It offers twenty-six rooms with stunning views over the jungle canopy to the Crater Lake, with the colonial city of Granada and Lake Nicaragua just visible on the horizon. Each room has been furnished and decorated by Nicaraguan artisans, blending an authentic local feel with the lodge's warm, contemporary design.
We invite you to unwind in the hammock on your private balcony or enjoy a cocktail in the infinity pool overlooking the Apoyo Lagoon. Take a hike on the trails surrounding the grounds where you can spot orchids, hummingbirds, monkeys and more than two hundred species of butterflies. Learn about artisan traditions in onsite workshops or visit notable artists in their nearby studios. Enjoy open-air, fine dining with ingredients sourced from local purveyors and the organic garden. Head down to the lakeshore to sunbathe, swim and paddle in the clear waters of Laguna de Apoyo.
Day 2
Private Full Day Tour: Chocolate workshop + Colonial Granada City Tour in horse carriage + Kayak at Lake Nicaragua
Meals included: Breakfast, Lunch
This morning, the guide will pick you up at the hotel to begin your tour at the Chocolate museum. Everybody knows about Belgian, Swiss or French chocolate but have you ever heard about Nicaraguan chocolate? Originally from Central America, this plant has an extraordinary history. It was one of the most important products for the Mayan and Aztec cultures, as well as other Central American cultures. The discovery of America led to the introduction of chocolate in Europe, transforming it into the product we all know today. At Choco Museum we will follow all the processes to make chocolate from fermented organic cacao beans. We will learn how to roast, winnow, grind, and mix, conch, refine and mold. At the end of the 2 hours' workshop you will leave with a sample of your very own handmade Nicaraguan chocolate. Don't miss an original opportunity to learn how to prepare Chocolate!
Once the chocolate workshop is finished, you will continue visiting the city of Granada. The Colonial city of Granada was founded by Captain Francisco Hernandez de Cordoba in the year 1524; it was founded next to the Mombacho volcano and the great lake of Nicaragua. Named after the city of Granada in Spain, this city has plenty of colonial churches, narrow streets and large homes with beautiful indoor patios, tiled roofs and pretty colonial colours. You will see "La Merced" church, the famous "Casa de Los Tres Mundos" and the San Francisco convent.  Here, we will have the opportunity to see and take pictures of mysterious idols made by our ancestors.  This is an impressive collection of genuine pre-Columbian sculptures in human and animal shapes. Due to the historical and cultural value of the city, it is in the process of being declared heritage of mankind by UNESCO.
Once the tour of the city is finished, you will continue to Lake Nicaragua to enjoy an adventure in kayak. We offer a unique way to explore the many tiny lava islands in enclosed cockpit kayaks. We offer fun paddling, kayak adventures – as well as guided birding excursions. You are the captain of your own boat in this beautiful location. Visitors are given a personal sea Kayak, life jacket and instructions for safety and comfort. Kayak for 2.5 hours seeing the most beautiful islands in Lake Nicaragua and their rich flora and fauna. During the tour visitors will stop at the "San Pablo Island Fort" used in colonial times as Granada's point of defense against invading gold searching pirates.
At the end of the tour, you will return to Apoyo Lagoon, and stay overnight at Pacaya Lodge & Spa.
---
Day 3 
Laguna hike + Enjoy the lodge amenities
Meals included: Breakfast

Enjoy spectacular views of the ancient Crater Lake as you wind down through the verdant jungle canopy. Explore Laguna de Apoyo's hiking trails, meet new friends, and learn more about the area's history and biodiversity. Each hike is led by a member of the local guiding association and features a brief orientation to the Laguna de Apoyo Natural Reserve and a guided interpretation of local biota. Guests on this moderate 2km hike frequently hear Howler monkeys and see parakeets. Close-toed shoes are required.This moderate hike concludes at the Laguna de Apoyo waterfront, where guests can cool off at the beach club, splash in the waves, sun on the beach, or take out a paddle-board. Guests can stay for as long or as little as they want before catching the lodge shuttle back to Pacaya Lodge & Spa. The last shuttle departs from the waterfront at 4:55 p.m.
Spend the rest of your day indulging in the activities and amenities at Pacaya Lodge & Spa.
---
Day 4
Private guided tour at Mombacho Volcano to do the Crater Trail & Canopy Tour 
Meals included: Breakfast, Lunch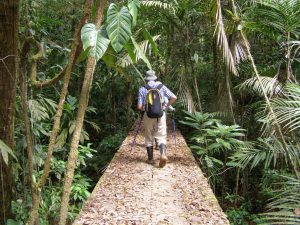 The guide will pick you up at the hotel. Once you arrive at Mombacho volcano you will continue to the middle of the Volcano where qualified staff will assist us to put on all the necessary equipment. After we gear up we will be driven to the starting point where instructions and safety measures will be provided in detail by the staff members. We will then be ready to take one of the most exciting excursions in Nicaragua, the canopy tour. You slide on cables that connect platforms located at the very top of enormous trees. We will be assisted the whole trip so we can enjoy this experience in comfort and safety. As we slide from platform to platform, we can admire the wonderful sights of the surrounding exuberant nature.
After lunch, we visit the Mombacho volcano natural reserve.  This enormous cloud forest is full of luxurious vegetation which has managed to grow over the centuries since the last volcanic activity. For our visit, our vehicle will lead the way to the foot of the mountain where we will get in touch with the park keepers. Then we switch vehicles and start on our way up to the top. The adventure begins on a paved road and right from the start we will be surprised by the biodiversity of this nature reserve and enjoy the breathtaking views. When we reach the summit, we will understand why this ecosystem is a cloud forest. A light sweater or jacket is suggested because of the strong, cold wind. The park keeper will give instructions to everyone so we can enjoy our visit. We will then take the trails of the volcano (For approximately 1:45 minutes) to learn a lot about the flora, the fauna, the ancient people who lived there and the volcanology of the area. If the day is clear enough, we will visit an impressive viewpoint to observe the plain pacific region of Nicaragua, the neighbouring city of Granada and the great lake of Nicaragua and its islands. When we return from our walk, we will visit the biological station where you can enjoy a cup of coffee. Our guide will let us know when it is time to board the vehicle that will transport us back to the foot of the mountain. Considered a moderate hike.
Then you will enjoy the typical lunch at the reserve.
Once the tour is finished, we will continue to Morgan´s Rock Hacienda & Ecolodge, or to Mukul Luxury Resort. The choice of hotel is yours!
---
Days 5 to 8: Option A
Indulge in the activities and amenities at Morgan's Rock Hacienda & Ecolodge
Stay in Morgan´s Rock Hacienda & Ecolodge in San Juan del Sur in a Bungalow Discover Ocean View for 4 nights. You receive full board, 2 local beers, 1 rum bottle and 1 tour per day.
Morgan's Rock is located near the town of San Juan del Sur, which lies just north of the border between Nicaragua and Costa Rica, south from the colonial city of Granada and about two and a half hours from the city of Managua. Morgan's Rock Hacienda & Eco Lodge is part of a 1,000-hectare reforestation project and an 800-hectare private nature reserve which is actually one of the last, large natural sanctuaries along the Pacific Coast of Central America. The conservation of this area is crucial for maintaining the habitat of the animals living in this region. During the past five years, almost 1.5 million trees (both hardwood and fruit), have been planted in these lands, hoping to return them back to the ecosystem they once were. These reforested lands, together with the nature reserve and the estuary, host a variety of forest animals such as howler monkeys, sloths, white tipped deer and many birds native to the subtropical region. The beach is a nesting ground for giant sea turtles.
All fifteen bungalows face west, letting you revere dramatic sunsets disappearing into the Pacific Ocean. The surrounding forest adds indispensable privacy and peace to each unit. Most bungalows sit on a cliff overlooking the private bay and estuary. While they have been soundly designed to offer shelter from the rain, sun or wind, each bungalow breathes nature. All enjoy an indoor beach garden hosting your own private outdoor shower. All hotel bungalows feature one king size bed, a comfortable sofa bed and a private deck. The architect has carefully used mainly local materials, and the wooden furniture was custom made by local artisans. Even the quaint lamps have been made out of recycled wood from a former cattle ranch at Morgan's Rock Eco Lodge!
---
Days 5 to 8: Option B
Indulge in the activities and amenities at Mukul Luxury Resort
Stay at Mukul Luxury Resort in a Premium Ocean View Bohio for 4 nights. Breakfast is included.
Mukul is a luxury boutique hotel located at Guacalito de la Isla, a 1,670-acre low-density private beach community on Nicaragua's Emerald Coast.  Mukul – "Mukul" is the Mayan word for "secret" – features 37 spacious accommodations. The resort amenities include Spa Mukul, with six private spa-treatment casitas, a beach club featuring dining and lounge areas and a swimming pool; and the 18-hole Guacalito Golf Course designed by David McLay Kidd, named the "hottest architect in golf" by Golf World. Guests can enjoy access to the property's four miles of white-sand beach and rugged coastline, and 5 kilometers of nature trails on which they can hike or bike to observe the four species of monkeys and other wildlife that reside in the lush coastal forest.
Pricing
Trip with Pacaya Lodge & Morgan's Rock (Option A) *:
2,489 USD per person with 2 people in group (double occupancy)
2,155 USD per person with 4 people in group (double occupancy)
Trip with Pacaya Lodge & Mukul Resort (Option B) *:
2,995 USD per person with 2 people in group (double occupancy)
2,649 USD per person with 4 people in group (double occupancy)
* Travel until October 31st, 2016 to receive this special promotion
As always, we can customize this trip for you. Please contact us to start the conversation!