Happy 2017! For the new year, we're featuring two exciting expeditions in Ecuador – A unique lodge-based adventure in the Galapagos Islands, and a trek on Cotopaxi, one of the world's highest active volcanoes.
These journeys can be booked as stand-alone experiences, but joining these two expeditions together makes for an excellent and more comprehensive travel experience in Ecuador! The Galapagos Islands are considered one of the world's foremost destinations for viewing wildlife, and a hike through the verdant grasslands of Cotopaxi provides majestic views of spectacular valleys, rocky mountains and volcanic glaciers – Two very different and very spectacular lenses on some of the world's most wild and wondrous natural environments.
If you want to explore further, Ecuador is endowed with many jewels. Add to your trip a visit to the 'middle of the world' – the equator, and to Ecuador's capital city – Quito. Its 'Old Town' is a UNESCO World Heritage Site packed with colonial monuments and architectural treasures. A travel experience in Ecuador can encompass so much more, so let us customize the journey just for you!
The Galapagos is a great destination all year-round, and the volcanoes are best June to March for optimal weather conditions.
---
Galapagos Land, Sea and Underwater – 5 Days
In the Galapagos Islands you will see truly unique wildlife! Traveling to several islands, you get substantial exploration 'range' throughout the archipelago.
Swim, snorkel, kayak and hike as you observe various species of turtles, birds, sharks and more! Visit the Charles Darwin Research Station where you will gain insight into the great efforts being made to preserve this UNESCO World Heritage Site.
Experience the Galapagos in spectacular comfort, and with terrific food on this 5-day trip! This land-based program has you staying in wonderful boutique hotels on the islands of the Galapagos, giving you the opportunity to get up close to the wildlife, and to visit with some of the local human inhabitants.
---
 Cotopaxi Private-Guided Adventure Trails – 3 Days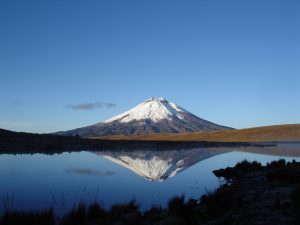 Cotopaxi is an active volcano in the Andes Mountains located about 50 km (31 miles) south of Quito. It is the second highest summit in the country, reaching a height of 5,897 m (19,347 ft) and is one of the world's highest volcanoes. Since 1738, Cotopaxi has erupted more than 50 times resulting in the creation of numerous valleys formed by mudflows around the volcano.
The National Park protects the landscape as well as a myriad of bird and mammal species, including wolves, pumas, bears, rabbits, Andean condors, wild horses, and foxes. Keen climbers and trekkers arrive to Cotopaxi from all corners of the world, excited to explore its unique landscapes and to try and capture some of the park's wild spirit.
On this 3-day private-guided trek, you will hike from lodge to lodge on and around Cotopaxi. Your daily itinerary will take you through spectacular valleys and verdant grasslands, travelling from rocky mountain peak to volcanic glacier, and all in the most environmentally responsible way: walking!
---
Pricing
Galapagos Land, Sea and Underwater Adventure (5 days)
2,250 USD per person for fixed shared departures
3,405 USD per person with 2 people in group (double occupancy) for private departures
2,725 USD per person with 4 to 8 people in group (double occupancy) for private departures
Cotopaxi Private-Guided Adventure Trails (3 days)
1,000 USD per person with 2 people in group (double occupancy)
715 USD per person with 4 to 8 people in group (double occupancy)
Note: Pricing is valid until December 16, 2017
As always, we can customize these trips for you. Please contact us to start the conversation!