The T'24 Second Year Greece Island Hopper Adventure is an 8 day / 7 night sail through the crystal blue waters of the Aegean Sea all aboard a small private boat, booked exclusively for your Tuck Class. Explore the hidden gems of Greece and some of the most picture-perfect islands in this sea. Your captain and private guide will take you to the most famous sites and locations in the area, allowing you to discover and live the age-old myths, try local delicacies, and still have plenty of opportunities for swimming and lounging. Tuck Partners are welcome to join! Dates: August 19- 26, 2023.
Saturday August 19
Details for Today
Arrive in Athens, Greece
Board your private charter boat
Sail to Aegina Island
Accommodation: Motorsailer Gulet near Aegina Island
Meals: D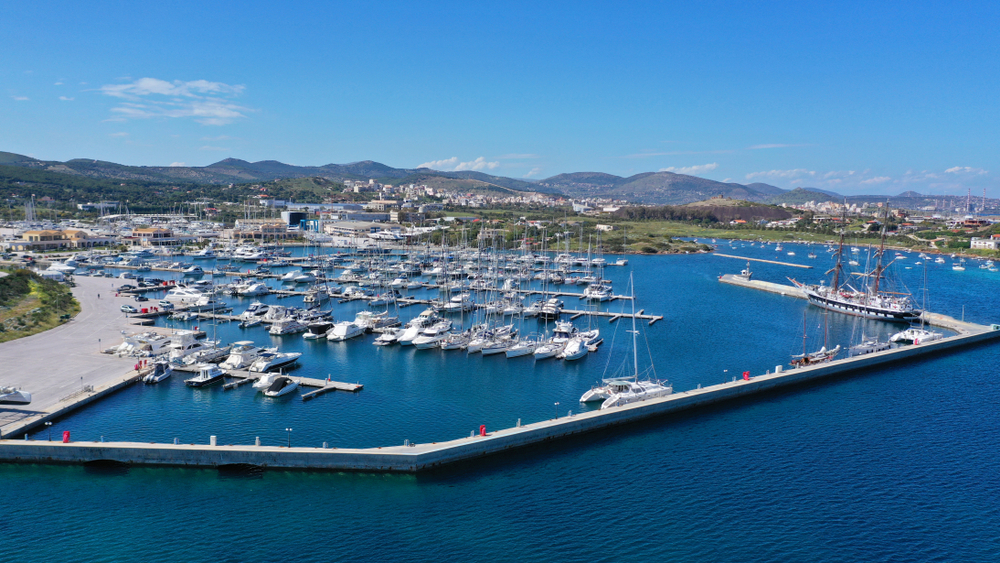 Welcome to Greece!
Upon arrival, you will be transferred from Athens airport to Lavrio port.
You may check-in aboard the boat at 4:30pm. Welcome aboard! This boat is exclusively booked for the Tuck Class, and is your home for the next week.
Your boat will sail (3.5 hours) to Aegina Island this evening. Dinner will be served onboard the boat.
Sunday August 20
Details for Today
Tour Aegina Island
Sail to Hydra Island
Accommodation: Motorsailer Gulet near Hydra Island
Meals: B, D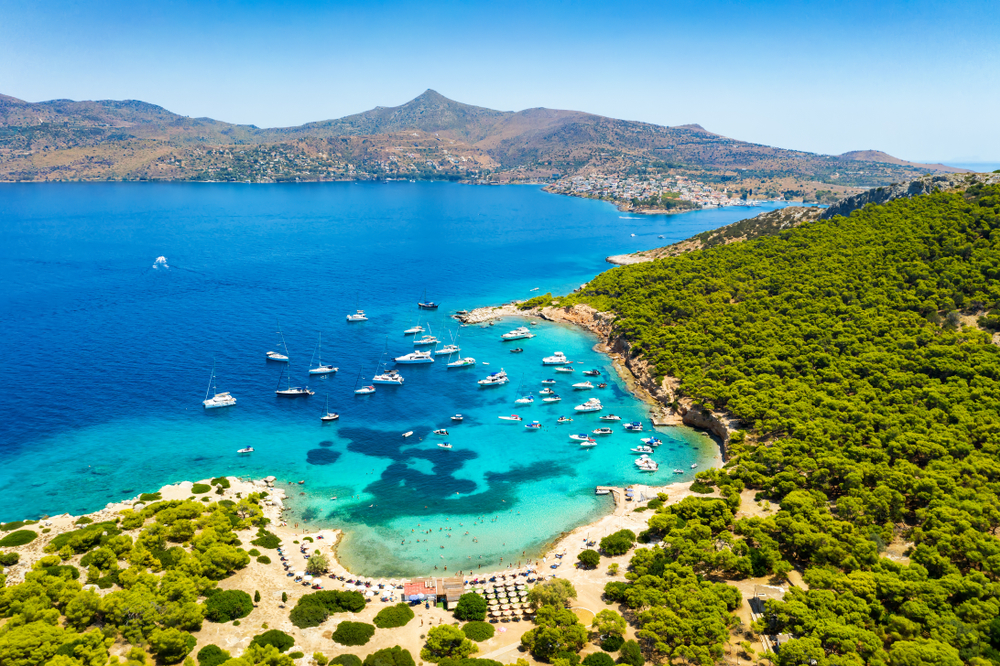 Today you will enjoy a tour of Aegina Island with your private guide and coach bus.
The Temple of Aphaia is one of the major attractions that one can see on the island of Aegina. Built on a hill, at 160 meters, it is surrounded by pine trees and it stands out for its unique energy. Since prehistoric times (1300 B.C.) it has been a unique place of worship.
One of the most visited sites on Aegina is the church of Agios Nektarios. Agios Nektarios was known as a great miracle worker, particularly as a healer of every sort of disease, he was also a prolific writer, theologist, philosopher, moralist, educator, poet, ascetic and mystic.
On the Southern edge of the island lies the small fishing village of Perdika. This is perhaps one of the most picturesque spots on the island and still has the characteristics of the Aegean style of square houses and narrow streets. Here, there are many tavernas to eat fish. From here you can take a small boat to the island of Moni.
Moni island is opposite Perdika, just 8 minutes by boat. Moni is a beautiful islet with lush vegetation without inhabitants, only with deer, small horses, wild boar, peacocks, pheasants and squirrels that come close to you to feed them. On one side of the island the waters are deep and suitable for underwater fishing, while on the other side of the island there is a wonderful sandy beach where you will find a beach bar and sunbeds.
Sail (3 hours) to Hydra Island, departing at 4pm. Dinner is served onboard your boat.
Monday August 21
Details for Today
Tour Hydra Island, one of the most quaint Greek islands
Sail to Spetses Island
Tour Spetses Island
Accommodation: Motorsailer Gulet near Spetses Island
Meals: B, L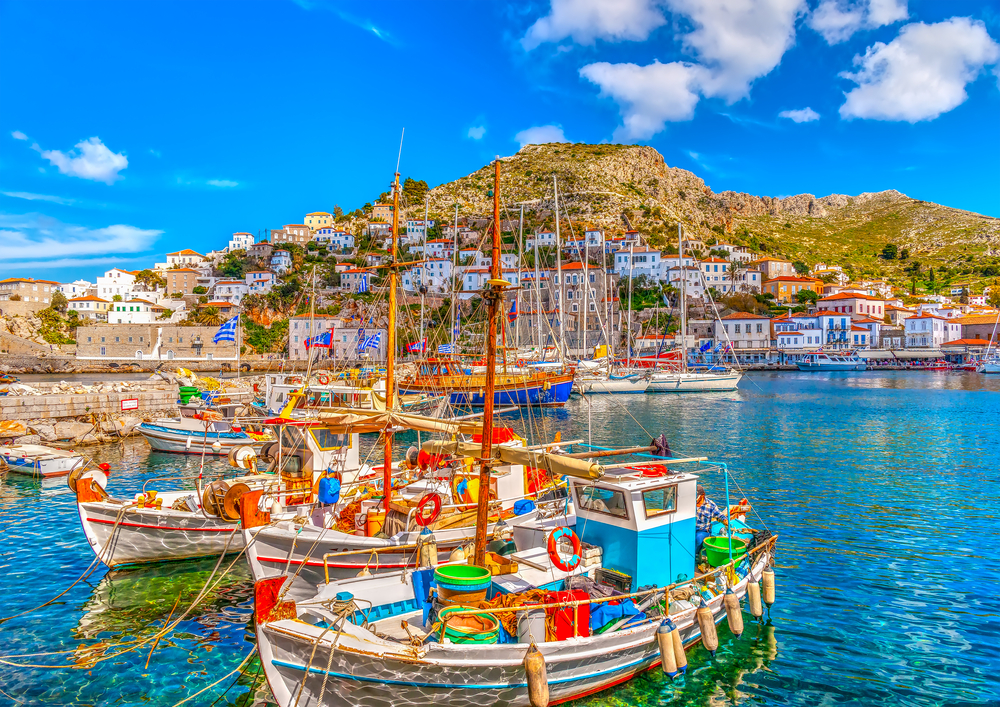 Hydra Island is the gem of the Aegean. With a ban on wheeled vehicles, romantic Hydra uses donkeys as its main means of transport. The beautiful roads and alleys paved with cobblestones, and the houses adorned with flowers, give the island of Hydra a touch of magic and a romantic mood.
This morning after breakfast your guide will take you on a walking tour around this island, including some hiking up the hills to catch perfect views. It's worth visiting the Manors of the Island, watching the harbor from the hill, and visiting the 6 Monasteries and 300 churches of Hydra.
We will return to the boat for lunch.
In the afternoon we will sail (2 hours) to Spetses, arriving by 4pm. Upon arrival, your guide will take you on a short walking tour around the island. In the evening, explore the island on your own and grab a bite to eat for dinner.
Spetses, an island boasting a long naval tradition, is famous for its significant contribution to the 1821 War of Independence. It was here that the revolution flag was raised on 3rd April 1821. The island has managed to retain its individual traditional character thanks to its well-preserved grand captain mansions, still bearing eloquent witness to the island's glorious past. The picturesque old harbor and Dápia, a tourist and commercial center where the heart of the island's entertainment beats, are the trademarks of the town of Spetses. The island was also the main shooting location for the film "Knives Out: The Glass Onion", making the beautiful island globally known.
Tuesday August 22
Details for Today
Sail to Poros Island
Enjoy a swimming stop along the way
Indulge in a wine tasting experience
Explore Poros Island at your leisure
Accommodation: Motorsailer Gulet near Poros Island
Meals: B, L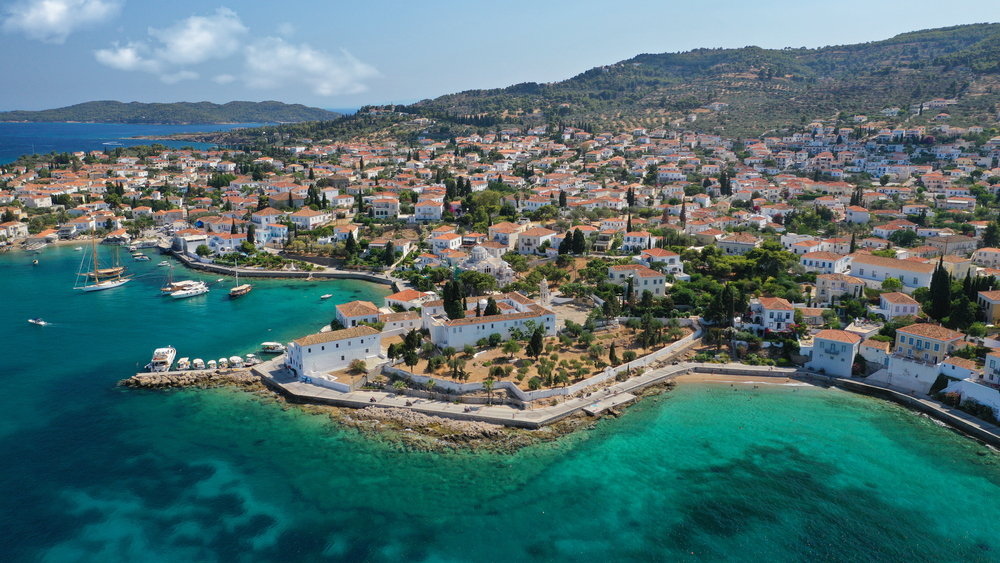 After breakfast, we will sail (3 hours) to Poros Island, leaving time for a swim stop along the way. Enjoy lunch onboard the boat and arrive in Poros by 4pm. Poros Island is famous for its wild lemon trees and Poseidon's Temple ruins.
Upon arrival on Poros Island, enjoy a wine tour! Andreou Winery offers a comprehensive wine tasting experience for all wine lovers and a tour of the winery. The volcanic soil here is ideal choice for growing vineyards and takes production and quality to the next level.
In the evening, explore the island at your leisure and grab a bite to eat for dinner.
Wednesday August 23
Details for Today
Swimming near Poros Island
Sail to Epidaurus
Accommodation: Motorsailer Gulet near Epidaurus
Meals: B, D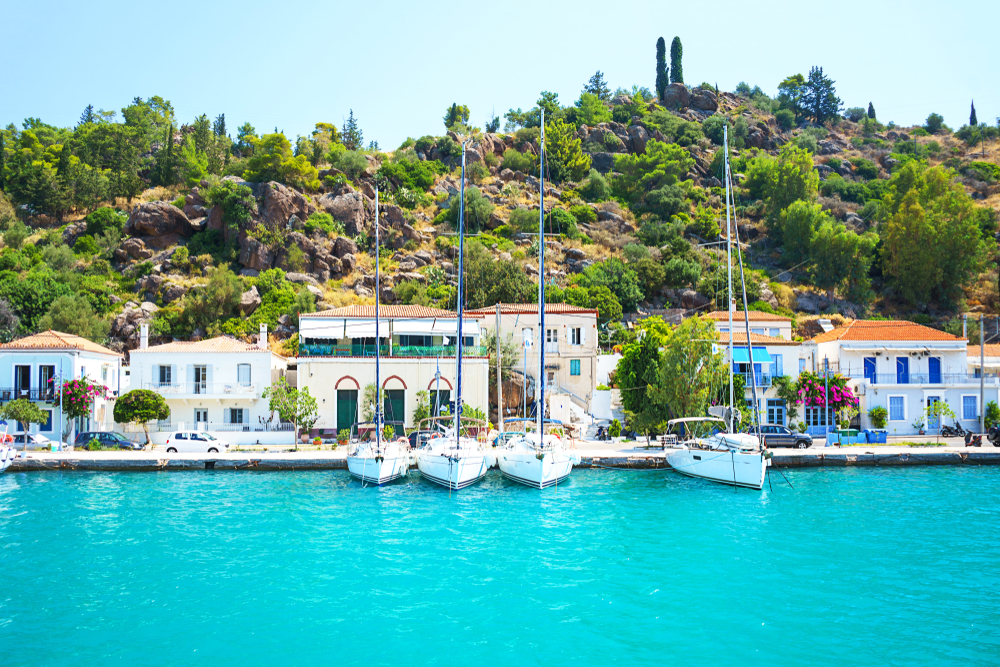 This morning, enjoy swimming near Poros Island and then depart by 1pm to sail (3 hours) to Epidaurus.
Dinner will be served onboard the boat.
Thursday August 24
Details for Today
Full-day trip to visit Mycenae and Epidaurus, ancient Greece archaeological treasures
Accommodation: Motorsailer Gulet near Epidaurus
Meals: B, D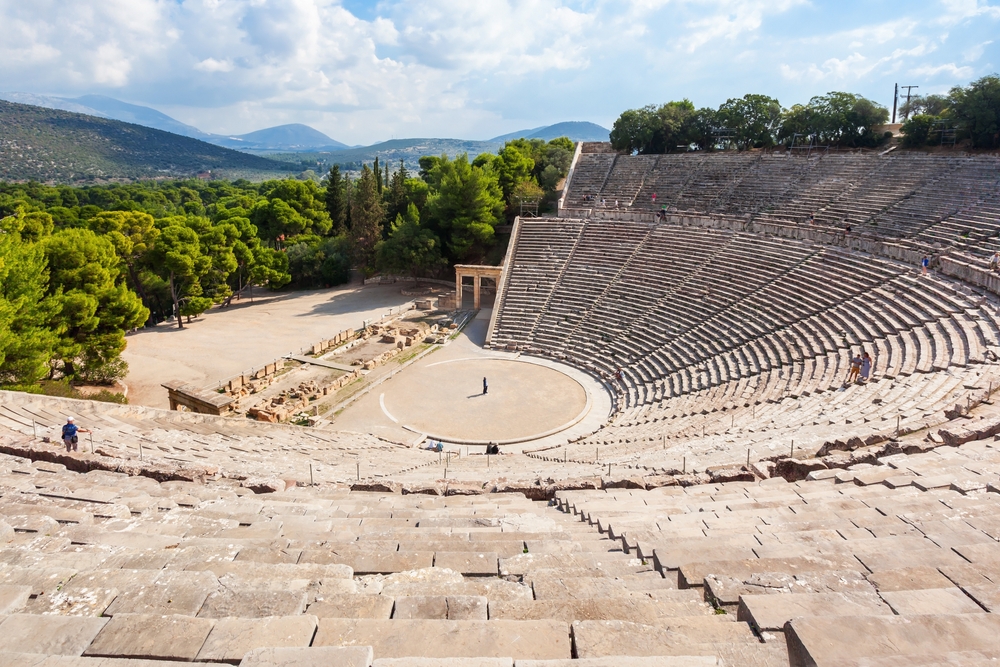 Today, follow in the footsteps of the ancient Greeks on a fascinating full-day trip to Mycenae and Epidaurus.
Traveling by air-conditioned coach (1.5 hours), you will drive along the beautiful Saronic Gulf and into the Peloponnese to the atmospheric hilltop ruins of Mycenae, a fortified city from the second millennium BC. Here you will see the city's main entrance, popularly known as Lion's Gate. You will also have a chance to see the Tomb of Agamemnon and Palace.
After a stop in the pretty coastal city of Nafplion for lunch, continue to another archaeological treasure – Epidaurus. Wander around the UNESCO-listed Sanctuary of Askeplios and ogle the age-old theater, a wonder of ancient architecture.
Dinner will be served onboard the boat.
Friday August 25
Details for Today
Sail to Lavrio (near Athens)
Enjoy a swim stop at Agistri Island 
Accommodation: Motorsailer Gulet near Athens
Meals: B, L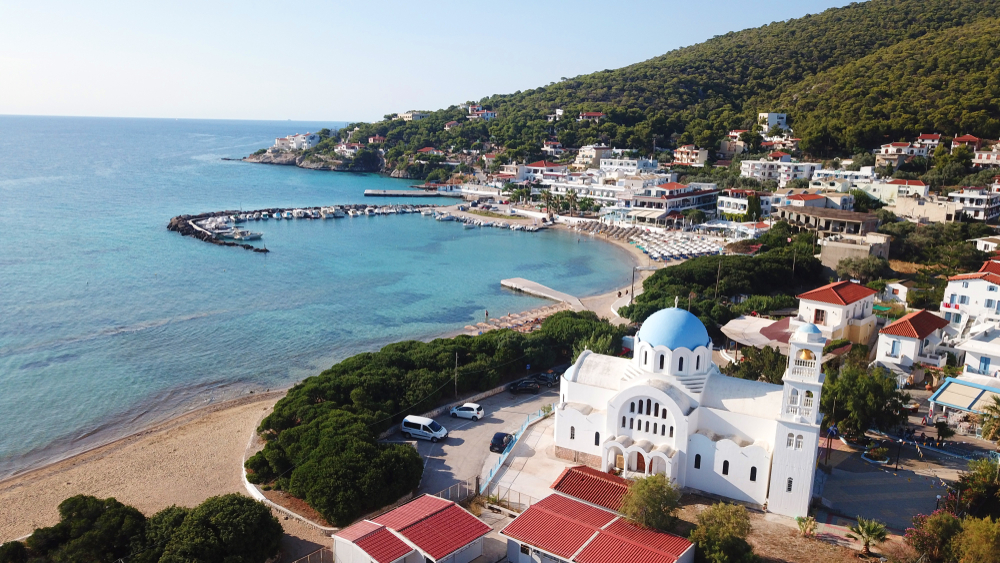 Today we will sail back (5 hours) to Lavrio (near Athens). If there is enough time, the group will make a swim stop at Agistri Island en route.
Agistri Island is a popular holiday destination for Athenians. The administrative capital of the island is the picturesque village of Megalochori, filled with dazzling white houses, flowery backyards and scenic alleyways that converge at the church of Zoodochos Pigi. Fans of historical architecture will be surprised to see Zoodohou Pigis Church built in the best tradition of national style.
On the southwest side of Agistri there is Aponisos, a privately owned island, known for its natural beauty and clear blue waters. On this small paradise island, the visitor is able to rent umbrellas and sun beds, swim at the small bay and enjoy tasty food at the local tavern. The beaches of Agistri are natural clusters of crystal clear waters and golden sands.
Saturday August 26
Details for Today
Transfer to airport for your international departure
Meals: B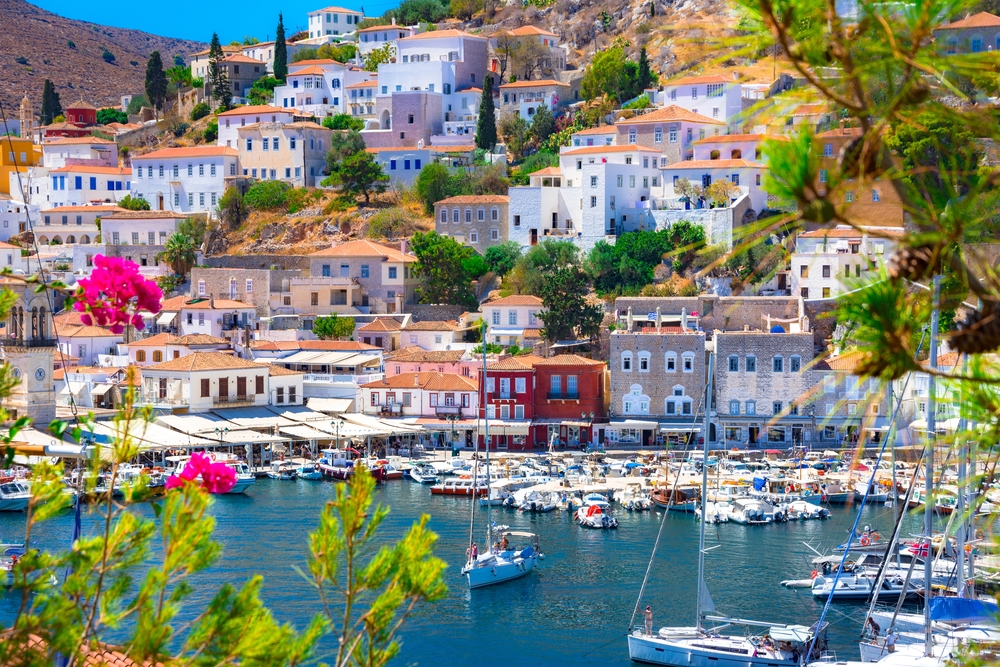 After breakfast you will disembark in Athens by 10:30am. Transfers will be provided to the airport.
It's time to say goodbye. Have a pleasant journey!
Accommodation
Motorsailer Gulet – A private charter, exclusively for the Tuck Class
Sailing in this Motorsailer Gulet will provide you with a comfortable cruise around the Greek coastline.  All cabins are elegant and comfortable and have a private restroom and air conditioning. The A/C can be used up to 8 hours daily, the use of the A/C in harbors is strictly forbidden.
Enjoy the indoor and outdoor spaces for eating and relaxing. The yacht is also equipped with a TV, DVD player, and a stereo music player in the cozy living room.
This Motorsailer Gulet was built in 1998 and was renovated in 2012. It is 108 feet long and has 5 crew members.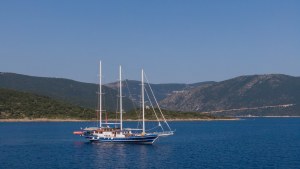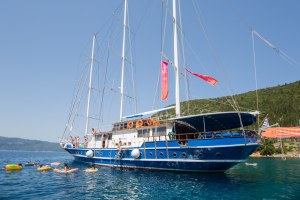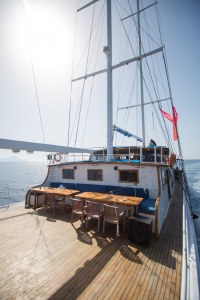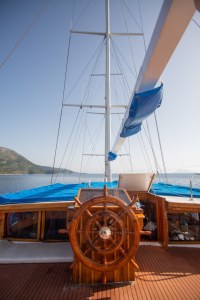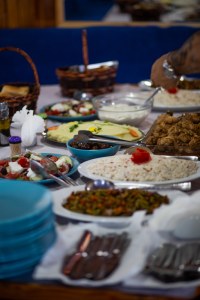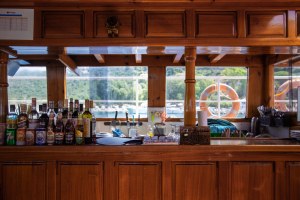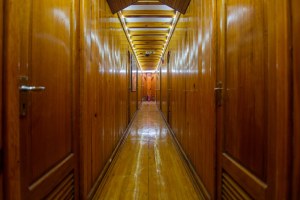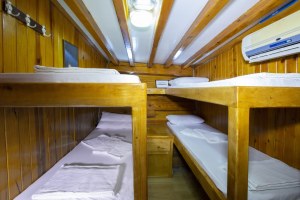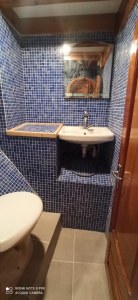 Pricing
The cost for the Tuck International Adventure in Croatia is 2,595 EUR per person based on double occupancy.  Should you wish to have your own cabin, we can arrange this for you with an additional single supplement of 1,862 EUR.
Price includes:
Exclusive charter of Motorsailer Gulet, Boat Crew of 5, Fuel, VAT
Dedicated private guide for group for duration of program
All activities/excursions as outlined in the itinerary, including relevant transportation and entrance fees
All meals as outlined in the itinerary
Beverages (soft drinks and pre-provisioned beer/wine/spirits with bartending service: NOTE – this is not an open bar – drinks well be selected and provisioned for the group in advance of the sailing; budget of 6 drinks per person, per day has been assumed)
Transfers from/to airport in Athens
Price excludes:
Port tax (80 EUR per person, to be paid locally)
Tips (recommended 20-50 EUR per person, to be split among the crew and guide)
Any meals / activities not detailed above
International airfare
Visas (if required based on your nationality)
Travel insurance (Terraficionados strongly advises putting travel insurance in place to protect your travel investment)
Please note: Depending on sea and weather conditions and on local port authorities, Terraficionados and our local partners in Greece reserve the right to make necessary changes to the itinerary to ensure the safety and comfort of our guests. Also, some of the included lunches/dinners may be switched to dinners/lunches depending on final logistics for each day's activity. Your Captain and Guide will be reconfirming the logistics of the itinerary with the group on a daily basis.
Before You Go
Suggested Packing List:
This list is intended to provide you with a broad initial guideline so you have an idea of what to expect. You should plan on bringing the following:
Beach towel
Sun block
After-sun cream or hydrating cream for face and body
Swimming suit
Hat or cap to protect from sun
A jacket or light sweater – it will be windy on the boat
Shoes that are comfortable for walking around the islands
Clothing suitable for going out in the towns in the evening
Day-pack for excursions, where you can store clothing layers and personal items
Note – this list is not comprehensive; it is meant to be a guideline to help you prepare for the trip appropriately.
Visas and Vaccinations:
It is the responsibility of all travelers to ensure that proper travel documentation is in place. All countries require a valid passport (with at least 6 months' validity). Contact your local embassy or consulate for up-to-date visa requirements. (American residents, click here for the State Department's latest outline of travel documentation requirements).
Travelers should consult a family physician or your local travel clinic for up-to-date health information and any requirements for vaccines. More information can be obtained from the ISTM by clicking here. Or, contact your country's Health or Foreign Affairs department.
Medical and Travel Insurance:
Proof of out-of-country medical insurance is required. Terraficionados offers various Cancellation & Interruption, Lost Baggage, and Out-of-Country Medical insurance coverages for Canadian and American residents. If you need information, a quote, or to book travel insurance please click here, or you may contact another provider. International students who are not yet US residents should consult insurance providers in their home country.
Tuck '24 Greece Island Hopper Adventure – Itinerary