On this trip to Spain, immerse yourself in exclusive, unique experiences, unlike anything you have ever seen before!
Begin in Madrid, where you will gain an insider's look and taste of local wines with a renowned sommelier. Next, enjoy a private-guided city tour where you will learn in fascinating information about Spain's culture and history from your expert guide.
Continue to Sevilla to take part in some truly authentic activities! Upon arrival, you will be welcomed into the home of two art restoration experts, who will teach you about the trade and ask for your hand in a few projects. After that, explore the lesser known neighbourhood of Triana and learn about the legends and history that shape their culture to this day. Tour the city of Sevilla and enjoy a private Flamenca performance where you will uncover the beauty of gypsy Flamenca culture and converse with the most esteemed musicians of this genre.
Your next stop is Ronda! Visit a local winery and taste some award winning wines. Hike through the Serrania de Ronda to enjoy the natural beauty of the region.
Finish your trip in Spain's most beautiful city, Barcelona. Here, take a private-guided tour of the city and embark on an excursion to the famous Monastery of Montserrat. Hike the surrounding area of the monastery and visit a local winery. Finally, witness the long running tradition of Human Tower Builders. Watch their fascinating skills and participate in a build!
This is a trip for those who wish to delve deep into the lesser known and authentic side of Spain!
Day 1
Details for Today
Arrive in Madrid, Spain
Insider's tapas tour and wine pairing
Learn about local wines with a well-respected local sommelier
Accommodation: Urso Hotel & Spa 
Meals: D
Welcome to Madrid, Spain!
Upon arrival in Madrid, our representative will meet you in the arrivals lounge and you will take a private transfer to your hotel. Take time to settle into your hotel, and then in the evening enjoy an Insider's Tapas Tour with Wine Pairing!
Your host tonight will be Gloria, a Wine Expert. Gloria heralds from the Atlantic coast of Galicia and has spent time in London, Brussels and Italy before making Madrid her adopted home. After realizing her passion for wine, she went in search of adventure in New Zealand and Australia, and in particular the "New World" wines. On her return to Spain, she earned her sommelier, reinforced her knowledge at the University of La Rioja and is currently studying "Level 4 Diploma" in the WSET to hopefully become someday "Master of Wine". Gloria is delighted to share her enthusiasm and knowledge for Spanish wines! Cheers!
All About Madrid
Madrid is one of the world's most vibrant and seductive cities. It is a city with a charming and infectious atmosphere that visitors can immediately sense, feel a part of and enjoy. A city that takes unabashed pleasure in its past traditions and is proud to display a wealth of cultural treasures and architectural glories. Each neighborhood has a flavor of its own and the city wonderfully juxtaposes its grandeur – elegant marble statues, spectacular fountains, the awe-inspiring Royal Palace – with lively bohemian districts, where funky restaurants and cafes are sprouting up between old, established local favorites.
It's an exciting time for food lovers in the capital too, where you can choose between traditional cuisine and state-of-the-art cooking techniques, in both restaurants and tapas bars. If you're an art fan, you've come to the right place. Madrid is practically bursting at the seams with museums and galleries where you can get your fix of some of the greatest works of art from Velaquez, Goya, Picasso, El Greco, Dali and co. The Prado, the Reina Sofía and the Thyssen are the heavyweights and highly recommended at some stage of your visit. For day excursions, you are spoilt for choice, with Toledo and Segovia rightly being the most popular choices. Come to Madrid and live like a local for a few days…it's a place that quickly envelops visitors and almost always exceeds expectations.
Day 2
Details for Today
Madrid:
Take a private-guided city tour
Visit the capital's most impressive sights and museums
Have a fascinating and memorable experience with your expert guide
Accommodation: Urso Hotel & Spa 
Meals: B
Today, enjoy a tour that includes some of the capital's most impressive sights, such as the Plaza de Oriente and the historic quarter, including the 17th-century Plaza Mayor, a wonderful Baroque square lined with arcades filled with picturesque cafes.
The day is totally flexible and can be catered totally to your interests and preferences. We suggest however that you definitely spend time in the historic quarter of the city, and visit the peaceful Plaza de la Villa and the narrow streets of Madrid of the "Austrias", named after the Austro-Hapsburg dynasty which came to rule over in 1561. The Austrias neighbourhood is home to the city's best traditional restaurants including the famous Botin, the oldest restaurant in the world. Madrid's huge and opulent Royal Palace fully merits a visit. There is an outstanding collection of paintings, sculptures and tapestries as well as the Royal Armoury, considered one of the best of its type in the world.
After lunch, we suggest you concentrate on the Bourbon Madrid, so called after the "Bourbon" Kings, of the French dynasty who built up this area. Originally it was an open area containing market gardens. This area was called the Prado (Meadow). The Bourbon monarchs, particularly Carlos III, chose this area to provide a lasting architectural legacy for the madrileños. The attractions in Bourbon Madrid, which you will visit, include the Puerta de Alcalá, Plaza de Cibeles, the Congreso de los Diputados (Spanish lower parliament) and of course the Prado Museum which you will visit with your guide. The visit tends to focus on works by Goya, Velazquez, Zurbarán and the paintings by El Greco, which of course would be ideally completed with a visit to Toledo. Your expert guide will make the visit a fascinating and memorable museum experience.
Time permitting, venture into the nearby Barrio de las Letras. This Madrid tour focuses on several of Spain's famous writers, great composers, writers, comics and poets (Cervantes, Lope, Quevedo, Góngora) who lived in this neighbourhood. As with all our city tours, the day is catered to your tastes and interests so can also include sites, monuments or places of interest not mentioned here.
Evening will be at leisure. Please note that we would be happy to provide you with a list of restaurant recommendations for Madrid as well as make bookings on your behalf.
Day 3
Details for Today
Transfer: From Madrid to Sevilla via high-speed train
Sevilla: 
Exclusive visit to the Home & Studio of Art Restorers
Learn about, and participate in, age-old art restoration with two experts
Explore the lesser known neighbourhood of Triana
Learn about Triana's history and legends from locals
Accommodation: Hotel Casa
Meals: B
After check out, meet with your private driver and head to Atocha train station. Here you will get the AVE (High speed train) to Sevilla. Upon your arrival in Sevilla, you will be transferred to your hotel. In the afternoon, you will embark on an Exclusive Visit to the Home & Studio of Art Restorers in Sevilla, followed by an in-depth tour through Triana.
In the old town of Sevilla, hidden down a small side street, a simple, non-descript door opens to welcome you into a nineteenth century abode filled with artistic treasures. Renowned art restorers, Jesus and Pablo, will welcome you into their home and studio to share with you their passion for art and reveal the techniques they use to save age-old art pieces and bring them back to life. Far removed from museum queues and shuffling tour groups, in the privacy of their home, these gentlemen will take the time to show you round the numerous pieces that are being restored.
Depending on the day, you might find Golden Age paintings, rococo mirrors, ivory crucifixes or Roman pottery over 2000 years old. They will demonstrate how to remove the dirt and grime from an age old canvas, leaving a clean and fresh original image below. Discover how chips, rips and tears can be cured and hidden as if they had never occurred. Watch them piece together ceramic pieces to recreate Roman pottery… and have a go yourself at some art restoration!
Later, embark on a very different and unique walking tour. Step away from the lines of tourists and the monuments of the city center, cross the river and explore the neighbourhood of Triana. Historically, the residents of Triana have always set themselves apart from the main city of Sevilla and have always celebrated their differences with the 'city' across the water. Triana has however played an integral role in the development of Sevillan culture and tradition and you'll discover why on this tour. Over the centuries, sailors, artisans, bullfighters and gypsies of the city came from here, hence the rich tradition of flamenco in Triana.
Hear about the swashbuckling tales from the times of Columbus, learn about the Spanish inquisition with some fascinating anecdotes, find out about the ceramic skills of those who have produced beautiful hand-painted tiles in Triana for centuries, and meet some of Seville's most unique and legendary characters of today and yesteryear. This tour is perfect for those who love getting under the skin of the cities they visit. Given the fantastic local tapas bars in the area, we can always combine a late afternoon tour here with tapas to follow.
For this unique visit, you will be accompanied by a local host and translator.
Day 4
Details for Today
Sevilla: 
Enjoy a private-guided city tour of Sevilla
Immerse yourself in Flamenco culture with an exclusive performance and opportunity to interact with some of the most esteemed Flamenco musicians in Spain
Accommodation: Hotel Casa
Meals: B
This morning, your guide will meet you at your hotel and, together, you will step out into arguably Spain's most enchanting city. Become seduced by Sevilla's enchanting neighborhoods, with its twisting narrow streets, stunning patios and squares lined with orange trees. During your tour, you might see the enormous cathedral, the largest Gothic building in the world, featuring the tomb of Christopher Columbus and its 12th-century bell-tower, La Giralda, originally built by the Moors as a minaret. You may also visit the ornately decorated Alcazar Palace and its Andalusian gardens. Originally a Moorish palace, it was re-built and designed by Mudejar craftsmen for the Christian royalty after the expulsion of the Moors. You may also wander through the Barrio de Santa Cruz: originally the Jewish Quarter and now the prettiest quarter of Sevilla.
For other areas and sights, your expert guide will have many suggestions and recommendations for you to choose from.
Tonight, forget all the clichés… this is a one-off, unique opportunity to really discover the gypsy world of flamenco…in an exclusive collaboration with well-known, local flamenco musicians in Sevilla.
Although the gypsy community has lived alongside the rest of Spanish society for centuries, their culture has remained a closely guarded secret and still today, they are an almost unknown group. As our guests, you are given the exclusive opportunity to learn about this hermetic community, first hand. Being half-gypsy himself, your host Manu knows the flamenco world intimately and is related to some of the best lineage of flamenco families in Andalucía. Families whose children are brought up living and breathing flamenco, where long ago the real flamenco was born, offer a purity of culture difficult to come by outside of these circles.
If you really seek something truly special from your trip to Spain, then consider this unique opportunity and allow Manu to guide you and share his culture. You'll have the opportunity to join some of the best flamenco musicians in Seville, Andalucía and even Spain; musicians that have come together specifically for you, to share a once in a lifetime, unforgettable evening together.
As part of the evening, you will of course enjoy flamenco in an intimate setting, where the musicians can share their passion, music, and humor. You don't have to love flamenco to enjoy it, you don't even have to love music… but it's inevitable that the evening will leave a positive impression of flamenco music and, most likely, a totally different idea of what the gypsy flamenco world is. The evening is customized to suit personal tastes and includes a private flamenco performance.
Day 5
Details for Today
Transfer: From Sevilla to Ronda
Ronda:
Visit a local winery and taste some of their award winning wines
Accommodation: Hotel La Fuente de la Higuera
Meals: B,L
Today, meet your driver at hotel reception for a private transfer to Ronda.
Perhaps Andalucía's most well-known white village and one of our favorite destinations in Spain, Ronda stands on a towering plateau, which is divided in two by a plunging river gorge known as El Tajo. The town boasts many cultural landmarks, amidst the most notable is the bullring, one of the oldest and most beautiful in Spain.
Although popular with visitors, Ronda has a special charm and makes a wonderful country interlude on your travels. There are some fun and fascinating foodie options in the area… a centuries old olive mill, artisan cheese tastings and, curiously, Ronda is establishing its reputation as first class producer of red wines. The area around Ronda is becoming well-known among enthusiasts as a producer of very good red wines and, to a smaller extent, whites which are being made in what are principally boutique wineries with every attention to detail. Grape varieties include Cabernet Sauvignon, Merlot, Tempranillo, Garnacha, Pinot Noir, Syrah, Cabernet Franc and Petit Verdot. The vineyards are between 600 and 800 meters above sea level, a necessary requisite for making high quality tables wines so far south in Spain.
You will visit a winery where the winemakers will show you around and share their incredible enthusiasm with you. When you taste their wines you'll realize why they are so upbeat and why they think that, although production in the area is small, Ronda is going to become hallmark for fine wines. One winery we like to recommend and include is the Descalzos Viejos. This is a family owned cellar, actually built into a church, in what once was a monastery for the Descalzos Viejos monks. With the Retamero and Salesi families as your hosts, you'll find it's hard to decide what is more spectacular: the hospitality, the views, or the wines you'll be tasting (including a prize winning pinot noir).
Day 6
Details for Today
Ronda:  
Hiking excursion in the Serrania de Ronda region
Accommodation: Hotel La Fuente de la Higuera
Meals: B
Today, explore the Serrania de Ronda, an area north-west of the famous white village of Ronda.
Here, you'll find some great walks, particularly in the Natural Park of Grazalema. We can include white villages or make it completely off the beaten track. You'll enjoy some of the best walking in southern Spain, with a great variety of landscapes, from pastoral river valleys to impressive rocky limestone summits.
The Sierra de Grazalema is in fact made up of several smaller sierras, such as the one that we will cover on this walk, the Sierra del Endrinal. The word "endrinal" in Spanish means "thicket of blackthorn bushes" the fruit of which are the sloe berries that go into the Spanish liqueur pacharán. Soon after beginning this walk, you will recognize these bushes as a signature mark of the landscape. Other flora you will see are yellow broom, holm, gall and cork oaks, olive and wild olive (acebuche) trees and carob (algorrobo) trees, as well as a great variety of pines, most famous of which is the rare pinsapo, or Spanish Fir, which can grow up to 30m high and live for over 500 years. As it is one of the few tree species still living that existed during the Tertiary Era (1.6-65m years BC) it is a protected species. It survived the last Alpine ice age and is, in effect, a living fossil.
The walk is a pleasant circuit which takes in a good cross-section of these landscapes, and can be done in anywhere between 4- 5 hours.
Day 7
Details for Today
Transfer: Fly from Ronda to Barcelona
Barcelona: 
Enjoy a private-guided city tour
Visit the Sagrada Familia, Gaudí's most famous work and a worldwide symbol for Barcelona
Accommodation: Cotton House Hotel
Meals: B
This morning after check out, meet with your private driver and head to Malaga airport. Here you will take your direct flight to Barcelona.
After you are checked in and organized, our expert guide will meet you in the hotel lobby and together you will explore one of Europe's most fascinating cities…Barcelona! With typical Catalan pride and creativity, Barcelona remains determined to project itself as Spain's most innovative city, and offers a staggering array of attractions. Our guided tour covers much ground, including how the city was reborn with the Olympics in 1992 and stresses the importance of Catalan history and culture in its development. The tour takes in the Passeig de Gracia, the most stylish street of Barcelona, lined with boutique shops and art galleries. Also La Rambla, with its outdoor cafes, flower stands, exotic birds and equally colorful street performers.
Just off La Rambla are the antique stalls at La Boqueria, Barcelona's outdoor market considered to be one of the best markets in the world. Barcelona's Gothic Quarter rests on the ancient Roman city of Barcino, today, full of buildings from the 13th to the 15th century. The Quarter, where you'll spend most of the tour, is full of interesting shapes, peaceful plazas and winding alleyways, with its medieval Cathedral and the Picasso Museum. If you opt for only one private tour in Barcelona, then the visit should include the Sagrada Familia, Gaudí's most famous work and a worldwide symbol for Barcelona. Given there are so many sites and places of interest in Barcelona, our private guides are flexible and will accommodate your personal preferences and tastes.
Afternoon and evening will be at leisure.
More About Barcelona
Nestled between the sea and the mountains, the aesthetics of Barcelona impress from afar and close up. The city is an architectural dream with gems from legendary Modernist architects such as Antoni Gaudi, as well as the full range of contemporary avant-garde architecture dotted in between its 19th century promenades and thriving local neighborhoods.
In recent years, Barcelona has become the most talked about city in Europe for its ever-evolving restaurant scene. From bistro cooking to beach-side dining, local chefs are letting their creativity guide them and forging a gourmet paradise along the way. There are more than 40 local markets, the best known being La Boqueria and the range of specialist food and wine stores is staggering. They also have vineyards in the Penedes and the Priorat wine region, both within reach of Barcelona. The options for foodies here are vast and we encourage you to get involved as much as possible!
Excursions can also take you to a range of great destinations… the sacred alpine monastery at Montserrat, the picturesque seaside town of Cadaques, the Dali Museum in Figueres, medieval villages in the Emporda area as well as Girona, which apart from its fascinating history, is also currently home to the "Best Restaurant in the World".
Day 8
Details for Today
Barcelona: 
Take an excursion to the famous Monastery of Montserrat
Enjoy some hiking in the surrounding area
Visit a nearby winery, specializing in Cava sparkling wines
Witness the long tradition of Human Tower Builders ("Castellers"), and participate in a 'practice session' too!
Accommodation: Cotton House Hotel
Meals: B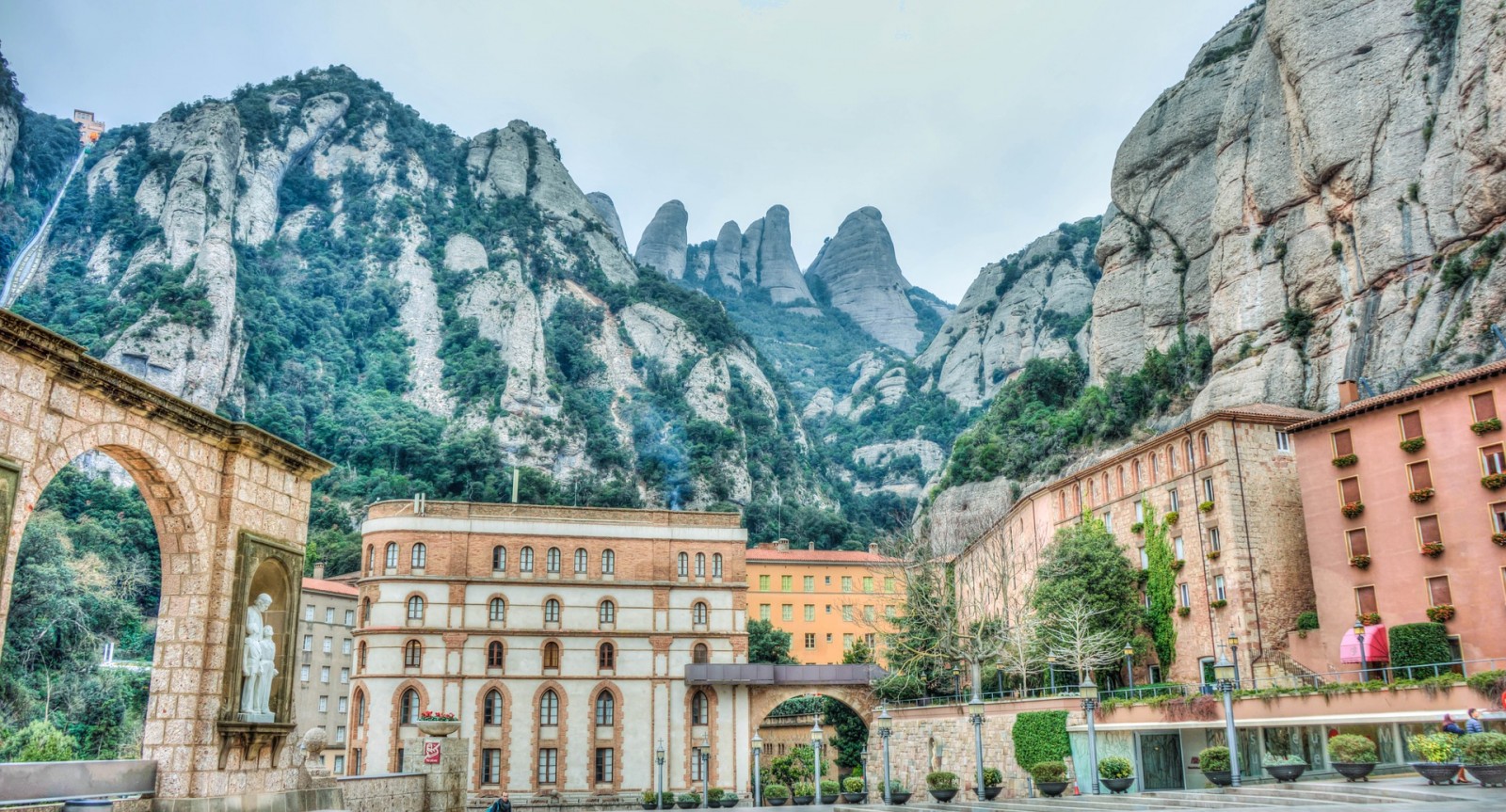 After breakfast, our expert guide and driver will meet you at your hotel and together you will embark on an excursion to the famous Monastery of Montserrat, a Benedictine monastery built between 1023 and 1036.
Visit the famous mountain range, home to the abbey, Santa Maria de Montserrat. Nestled between mountain peaks, the monastery is the center and symbol of Catalan faith and identity. It contains "La Moreneta", the Black Madonna, the patron saint of Catalunya.
After touring the monastery, you may want to enjoy some hiking with your guide. Several trails here lead to caves, including the one where the Moroneta icon was discovered. Alternatively, the excursion to Montserrat can be combined with winery visits in the nearby Penedes wine region. By the end of the day, you will have an appreciation not just of the famous Cava sparkling wines it produces, but also the innovative experimentation going on in the wine region, especially with the indigenous grape varieties.
For lunch today, your guide will recommend an authentic local restaurant, with the option of 'upgrading' to a more gourmet style traditional restaurant.
After lunch, witness an authentic group of Human Tower Builders ("castellers") training. Castells (or human towers) have existed for over two hundred years and today it is still the liveliest popular expression of Catalan culture. This is a unique practice in the world and UNESCO has declared it an Intangible World Heritage. Watch the best "castellers" or human tower builders in the world and meet more than 150 castellers. Watching them, you come to understand how important courage, teamwork, spirit of improvement and teammates' confidence is. The 'practice session' includes the use of a traditional castell outfit and the help of an instructor. So, get ready to be amazed by this breathtaking tradition and become a human tower builder for a day! It is truly an experience of a life time!!
Pricing
10,675 EUR per person with 2 people in group (double occupancy)
  8,379 EUR per person with 4 people in group (double occupancy)
  6,985 EUR per person with 8 people in group (double occupancy)
Note: Pricing is indicative and will be confirmed at time of booking. Pricing may vary based on travel dates, number of travellers, and specific trip inclusions / exclusions.  Charges will be converted to and processed in USD based on prevailing FX rates.
Private transfers including from/to airport
All activities/excursions as outlined in the itinerary
All accommodations summarized in the itinerary
8 breakfasts, 1 lunch, 1 dinner
AVE train tickets: Madrid-Sevilla (Preferred class)
Flight tickets: Málaga-Barcelona
Price excludes:
International flights
All lunches and dinners that are not mentioned in the above itinerary
All other lunches and dinners that are advised for clients by guide are not included
Personal expenses and tours
Domestic/International airport taxes
Tipping
Spain – An Insider's Look: A Bain Exclusive (9 days)