New Zealand is quite the adventure playground, and this 8 day trip is action-packed, taking in the best parts of the South Island. Get outdoors and enjoy the scenery on this beautiful island, while you hike, bike and kayak. Also enjoy unique experiences, like a mind-blowing scenic flight with a bird's eye view of the Southern Alps, and an overnight cruise in Milford Sound. This trip offers experiences and views you will always remember!
Active Adventures is designed for small group tours, anywhere from 4-14 travelers depending on the type of tour. Trips sometimes have set departure dates or may be customized to a group. Contact Terraficionados for more information.
Day 1
Details for Today
Arrive in Christchurch, New Zealand
Transfer to Southern Alps
Southern Alps:
Hike Devils Punchbowl in Arthur's Pass


Explore the forest and waterfall
Accommodation: Rainforest Retreat, Franz Josef
Meals: L,D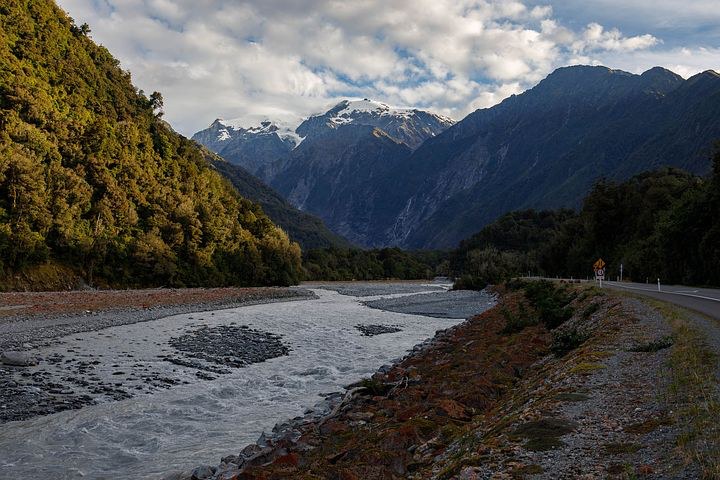 Welcome!
It's a short flight from Auckland to Christchurch in the South Island where your guide will meet you. You'll then travel into the Southern Alps to hike Devils Punchbowl in Arthur's Pass. The walk will take you through native beech forest to an awesome 131 meter (430 feet) waterfall so make sure you have your camera handy!
From there, you'll head down the coast to Franz Josef where we'll stay the night. Nestled in the rainforest-clad foothills of the Southern Alps, Franz Josef is the heart of New Zealand glacier country.
Activity for today: 2km, +100/-100m, 0.5-1 hour
Day 2
Details for Today
Southern Alps:
Full Day of Hiking to Alex Knob or Roberts Point
Explore Franz Josef Glacier
Optional heli-hike (not included)
Transfer to Makarora
Accommodation: Makarora Lodgings, Makarora
Meals: B,L,D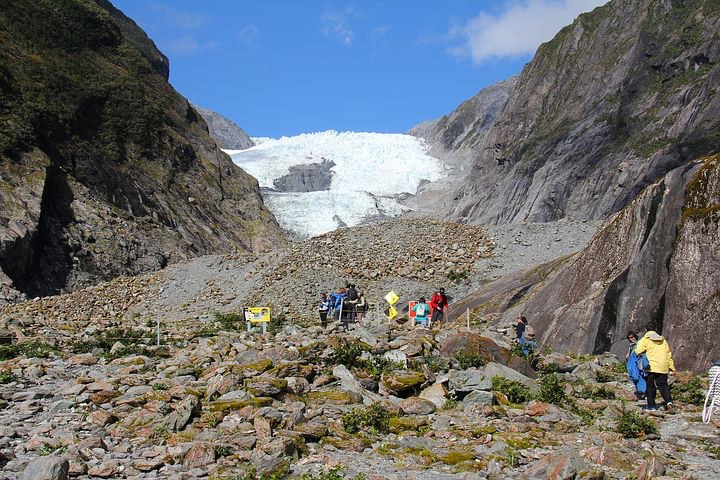 Today will be filled with amazing views of the glacier country!

With 140 glaciers making their way down from the Southern Alps, this area is fittingly known as glacier country. Few sights equal the spectacle of two of these giant frozen rivers (Franz Josef and Fox Glaciers) imperceptibly grinding their way down through the temperate rainforest to just 250 meters (820 feet) above sea level. You'll spend most of the day near Franz Josef Glacier hiking up through the forest to either Alex Knob or Roberts Point, both of which give incredible views of the ice. These hikes can be inaccessible in wet weather, so we may opt to hike close to the terminal face of Fox Glacier, or around Lake Matheson.
Activity for today: Alex Knob: 8km, +1,100/-1,100m, 5-6 hours; or Robert Point:12km, +400/-400m, 4-6 hours
Optional Heli-Hike (not included): A less strenuous, but outrageously scenic alternative to today's hike is to heli-hike on Franz Josef Glacier itself. After being fitted with crampons, ice axes and so on, you'll board a turbine helicopter and fly towards the highest peaks of the Southern Alps, landing on the glacier at 1300 meters above sea level. Led by specialist glacier guides, you'll hike through the grand ice formations of the glacier, checking out its crevasses, seracs, and tunnels – no previous experience is required! The constant movement of the glacier means every day is different, so your guides will cut steps in the ice to make the most of the conditions.

From Franz Josef, you'll travel down the coast through lush forest to Haast, and over the divide to a small mountain village called Makarora, where we'll enjoy some local dishes.
Day 3
Details for Today
Mt Aspiring National Park:
Mind-blowing scenic flight with a bird's eye view of the lower Southern Alps



Hike the remote Siberia Valley
Thrilling jet boat ride on Wilkin River
Accommodation: Makarora Lodgings, Makarora
Meals: B,L,D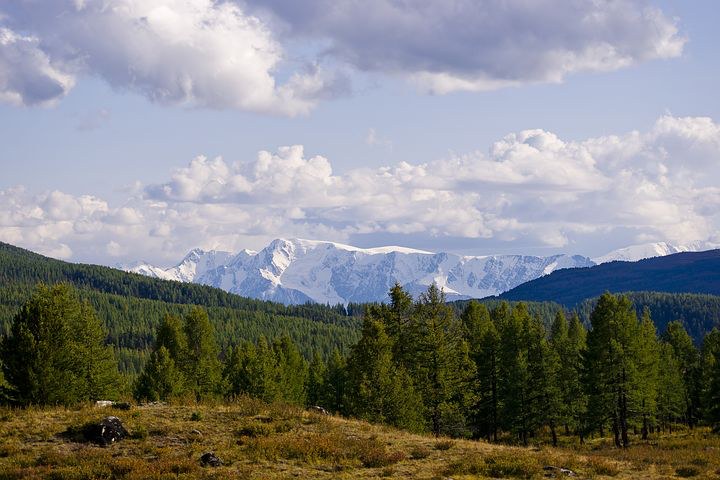 This morning we'll make our final preparations for our incredible flight into Mount Aspiring National Park and true wilderness.

You'll head out for a mind-blowing scenic flight into Mt Aspiring National Park, with a bird's eye view of the lower Southern Alps, landing in the remote Siberia Valley. From here you'll hike downstream along the Wilkin River, through beautiful silver beech (Nothofagus menziesii) forests to a jet boat rendezvous. Then it's a thrilling ride back to Makarora for dinner and perhaps a well-earned drink at the Makarora pub.
Activity for today: 6.6km, +140/-320m, 2-3 hours
Day 4
Details for Today
Mt Aspiring National Park:
Morning hike on Mt. Shrimpton track with views above the tree-line

Scenic bicycle ride along the Hawea River Trail
Transfer to Queenstown
Accommodation: Crowne Plaza Hotel, Queenstown
Meals: B, L
This morning you'll hike the Mt Shrimpton track. It's a steep hike with a 750 meters (2500 feet) elevation gain, and wait until you see the views from above the tree-line!
Activity this morning: 10km, +750/-750m, 3-5 hours
After regrouping in Makarora, you'll have a picnic lunch before taking a beautiful drive through spectacular glacier-carved valleys. The landscape changes rapidly from dense beech forests to semi-arid terrain. When we arrive at Lake Hawea, you'll be fitted with a 21-speed front-suspension Avanti Black Thunder 7.1 mountain bike for a scenic ride along the Hawea River Trail. This gently undulating track follows the Hawea and Clutha Rivers through the rugged Central Otago landscape for 17 kilometers (10 miles) to the charming lakeside town of Wanaka. From Wanaka, it's a short but dramatic journey over the Cardrona Saddle to Queenstown, on the shores of Lake Wakatipu.

Activity for this afternoon – Bike Ride is vehicle supported, so it's flexible: 22km, -80m, 2-4 hours

You'll sleep sweetly tonight at a lakefront hotel located in the heart of Queenstown.

Day 5
Details for Today
Queenstown:
Choice of: Full day hike up Ben Lomond Track; or a day at leisure in Queenstown
Accommodation: Crowne Plaza Hotel, Queenstown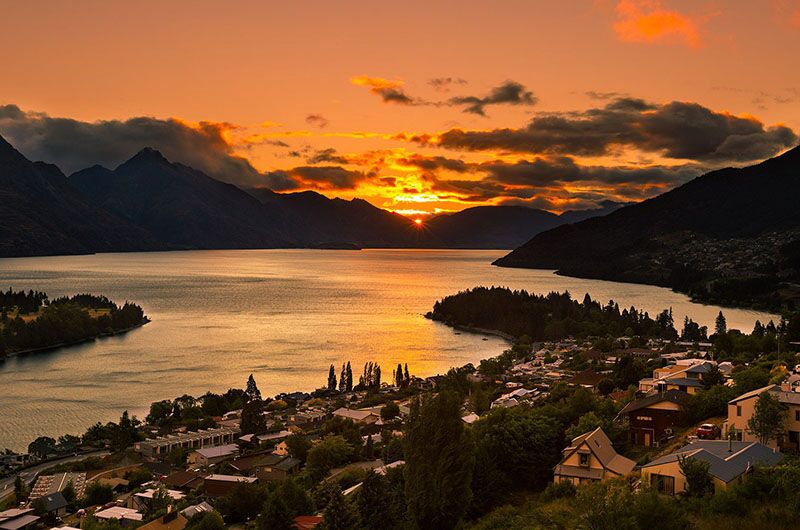 Today you have two options – a full day hike or a free day to yourself.
For those keen for an alpine hike, you'll meet your guide in the lobby and head up the Ben Lomond Track. To save our legs a little, you'll take a short gondola ride up to Bob's Peak, which is 450 meters (1476 feet) above Queenstown. From there you'll head out along the trail through alpine tussock-land towards the summit of Ben Lomond. From this vantage point, you'll find yourself immersed in amazing views over Queenstown and Lake Wakatipu, which are themselves dwarfed by the surrounding mountains including Mt Aspiring.

As an alternative, you can have a free day to explore on your own. Queenstown is the adventure capital of New Zealand (if not the world!) and all the comforts of civilisation are packed into this tiny resort town: restaurants galore, sidewalk cafés, stylish lounge bars, day spas, and boutiques. You'll also find incredible optional activities here including horse trekking, kayaking, fishing, winery tours, hang gliding, mountain biking, bungy jumping, jet boating and skydiving. Or you can just soak up the atmosphere or lounge about reading a book. Your guides will happily share their favourite haunts and point you in the right direction for your free day today.
Activity for today: 8km, +978m/-978m, 4-5 hours
Day 6
Details for Today
Transfer to Fiordland National Park, a World Heritage Area
Fiordland National Park
Enjoy easy walks with beautiful views of waterfalls and valleys
Board the Milford Wanderer for an overnight cruise – an exclusive experience!
Transfer on a smaller vessel to Sandfly Point and join a naturalist guide for a short evening hike
Accommodation: Milford Wanderer Overnight Cruise, Milford Sound
Meals: B, L, D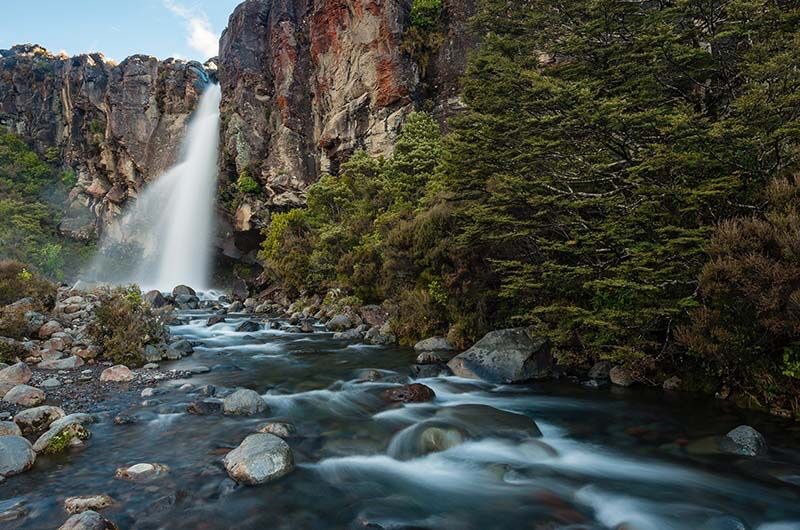 This morning, we set off for our largest and perhaps most spectacular national park, Fiordland. Once within the park we'll stop to stretch our legs at regular intervals, to explore some of the highlights of this World Heritage Area, including the Eglinton Valley, Mirror Lakes, Marian Gantry and The Chasm. The waterfalls viewed from the gantry will take your breath away! Once through the Homer Tunnel, we'll emerge at the top of a spectacular glacier-carved valley for a memorable descent to the shore of Milford Sound. Rudyard Kipling rated this fiord as the eighth natural wonder of the world and it is truly breathtaking, with steep granite walls plunging over a thousand meters to the Tasman Sea and waterfalls cascading into the deep inky water.
Tonight you're in for an extra-special experience, as we'll board the Milford Wanderer for an overnight cruise in the sheltered fiord. For those who are keen, there's time to explore a short section of the Milford Track – you'll transfer on a smaller vessel to Sandfly Point and join a naturalist guide for approximately 1.5 hours, before rejoining the Wanderer in time for a sumptuous dinner! 
Day 7
Details for Today
Milford Sound:
Sea kayaking

Hike the famous Routeburn Track and see incredible panoramic views
Accommodation: Lake Manapouri Inn, Manapouri
Meals: B,L,D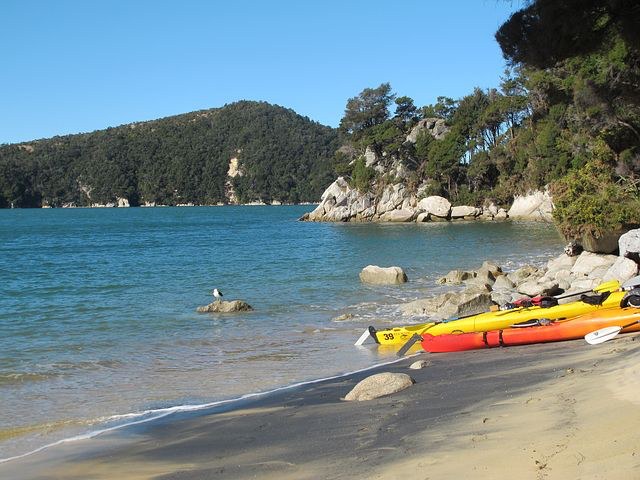 Having seen Milford Sound from the deck of a ship there's one more unique activity we've got lined up for you, to experience the eighth natural wonder 'Active Style', gliding along in sea kayaks.
You'll cause very little disturbance to the water, being in kayaks, providing an excellent chance of meeting friendly fur seals and dolphins that are sometimes in the area. This trip is run by specialist kayak guides, and the paddling here is equally suitable for beginners and experts.
After lunch, we'll explore the Fiordland wilderness on foot again, with a hike to Key Summit on the famous Routeburn Track. The panoramic views are incredible from this vantage point and you'll probably get to meet New Zealand's notoriously cheeky and intelligent alpine parrot, the kea (Nestor notabilis).
Tonight we'll enjoy a celebratory dinner for the last night of the 'Tui'.
Activity for today – Sea Kayak: 4-5 hours; Routeburn track: 6km, +450/-450m, 3-4 hours
Day 8
Details for Today
Transfer to Queenstown for your departure flight home
Meals: B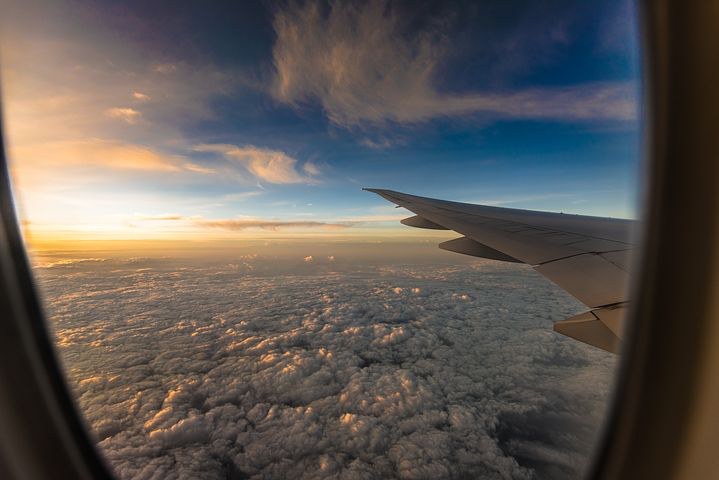 After breakfast, you'll return to Queenstown to catch your departure flight home.
This is the end of your 'Tui' trip and you'll have had an exhilarating week. It'll leave you buzzing with excitement, but feeling relaxed and refreshed as well!
South Island Multisport Adventure, New Zealand (8 Days)