This 10-day trip to Norway is packed full of active adventures, and historical and cultural sightseeing. Visit mountains, glaciers, fjords and valleys in Bergen and the surrounding area, and visit all the popular sights in the city of Oslo on private-guided tours by foot, bicycle and car.
Day 1
Details for Today
Arrive in Norway
Bergen:
Private-guided Bergen city sightseeing
Kayak in Bergen Harbour
Accomdation: Radisson Blu
Meals: L, D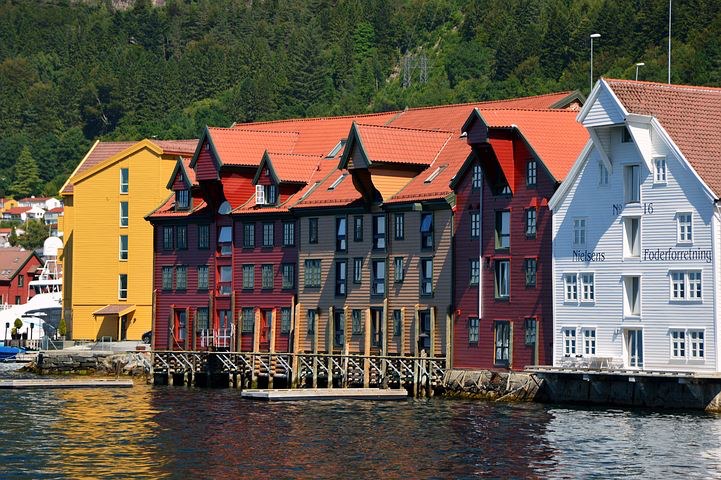 You will  meet your host at Bergen airport.  We head towards your accommodation in Bergen Radisson Blu for early check in.
You will  meet an  expert guide  for  Bergen city  sightseeing,  including a  visit to  the popular  Fish and Flower  Market,  the famous  Bryggen  Harbor with  its gabled  pack houses,  and the  old  Hanseatic Quarter. You will also ride on the funicular to Mt.  Floien, for panoramic views of the city and fjords far below.
See the city from a new perspective, by kayak. Paddling-guide will take you out on the ocean with sit-on-top-kayaks where you will experience the most scenic view of the city and its mountains, explore Bergen harbor and the famous Unesco Old Capital Bryggen during the stay in Bergen. The kayaks are double "sit on top" kayaks, very steady and easy to paddle. The day ends at your overnight stay Radisson Blu.
Day 2
Details for Today
Bergen:
Private sailing in Bergen harbour
Traditional lunch
Accommodation: Radisson BLU

Meals: B, L, D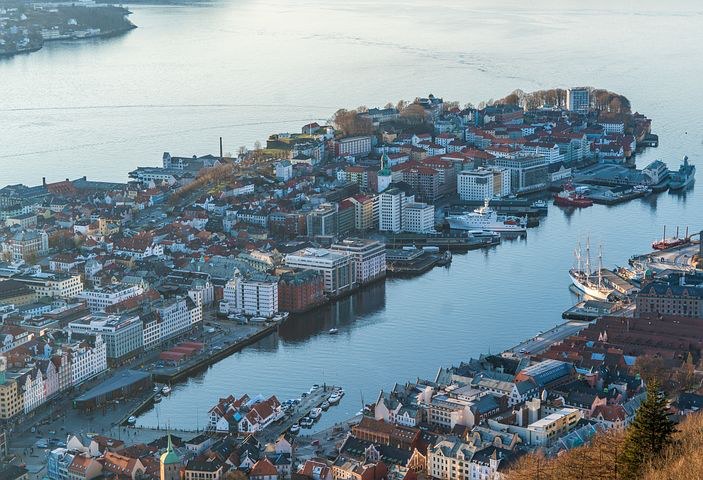 Today you will enjoy private sailing  in the fjords around  Bergen.  Bergen is  Norway's  second largest  city and lies conveniently between two  of the most famous and exciting fjords,  Hardangerfjord,  which goes under several names winding its way northwest between low-lying landscapes and impressive steep mountains. Traditional, homemade food will be served  on an island Osterøy at a  charming place  called  Mjøsvågen at Hosanger.
Overnight at Radisson BLU.
Day 3
Details for Today
Transfer to Hardanger
Hardanger:
See famous waterfall Steinsdalsfossen, Norheimsund
Visit the Hardanger Maritime museum
Enjoy a lunch at Steinsfruit Farm
Accommodation: Hotel Ullensvang
Meals: B, L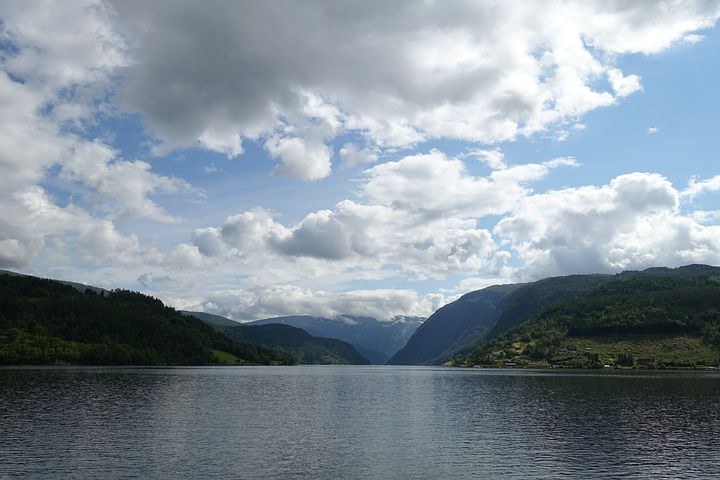 Departure to Hardanger fjord after breakfast. Stop at the famous waterfall Steinsdalsfossen, Norheimsund.
Visit to Hardanger Maritime Museum. See craftsmen at work, making ropes, building wooden boats. Hire a traditional wooden rowing boat with life jackets and fishing gear. Check out the exhibits, go on a guided tours and watch maritime films.
Lunch at Steinsfruit farm, local and homemade food. Drive along Hardangerfjord and cross the fjord with ferry to beautiful Ullensvang hotel for your overnight stay.
Day 4
Details for Today
Hardanger:
Folgefonna Glacier
Norwegian Museum of Hydro Power and Industry
Accommodation: Hotel Ullensvang
Meals: B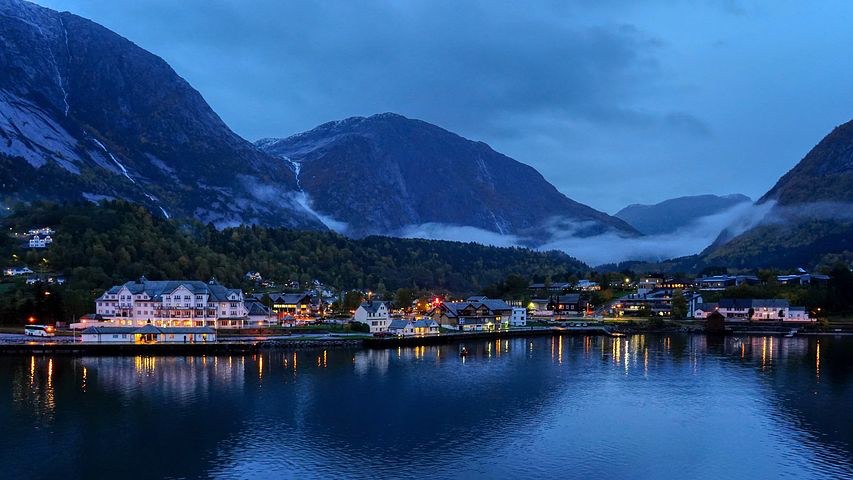 Today we take a day trip from the hotel to Folgefonna Glacier via Odda to Jondal. Drive the 19 km long and 1200 m high road into the Folgefonna Glacier. Great views and beautiful scenery both on the way and at the edge of the glacier. There will be a summer ski center and Glacier guides to take you on the glacier. Best season for summer ski center is mid May to mid July. Best season for glacier walk is mid June to end September.
Visit to Norwegian Museum of Hydro Power and Industry in Tyssedal, Odda. The construction of the power station Tysso 1 started in 1906. Mountain water was dammed, waterfalls and water put in pipes. And the groundwork for waterpower production and the industrial centre of Odda was made.
Back to Ullensvang for dinner and overnight stay.
Day 5
Details for Today
Hardanger:
Enjoy some leisure time at your hotel
Visit the Hardangervidda Nature Centre Eidfjord
See the spectacular waterfall atop Voringsfossen
Accommodation: Hotel Ullensvang
Meals: B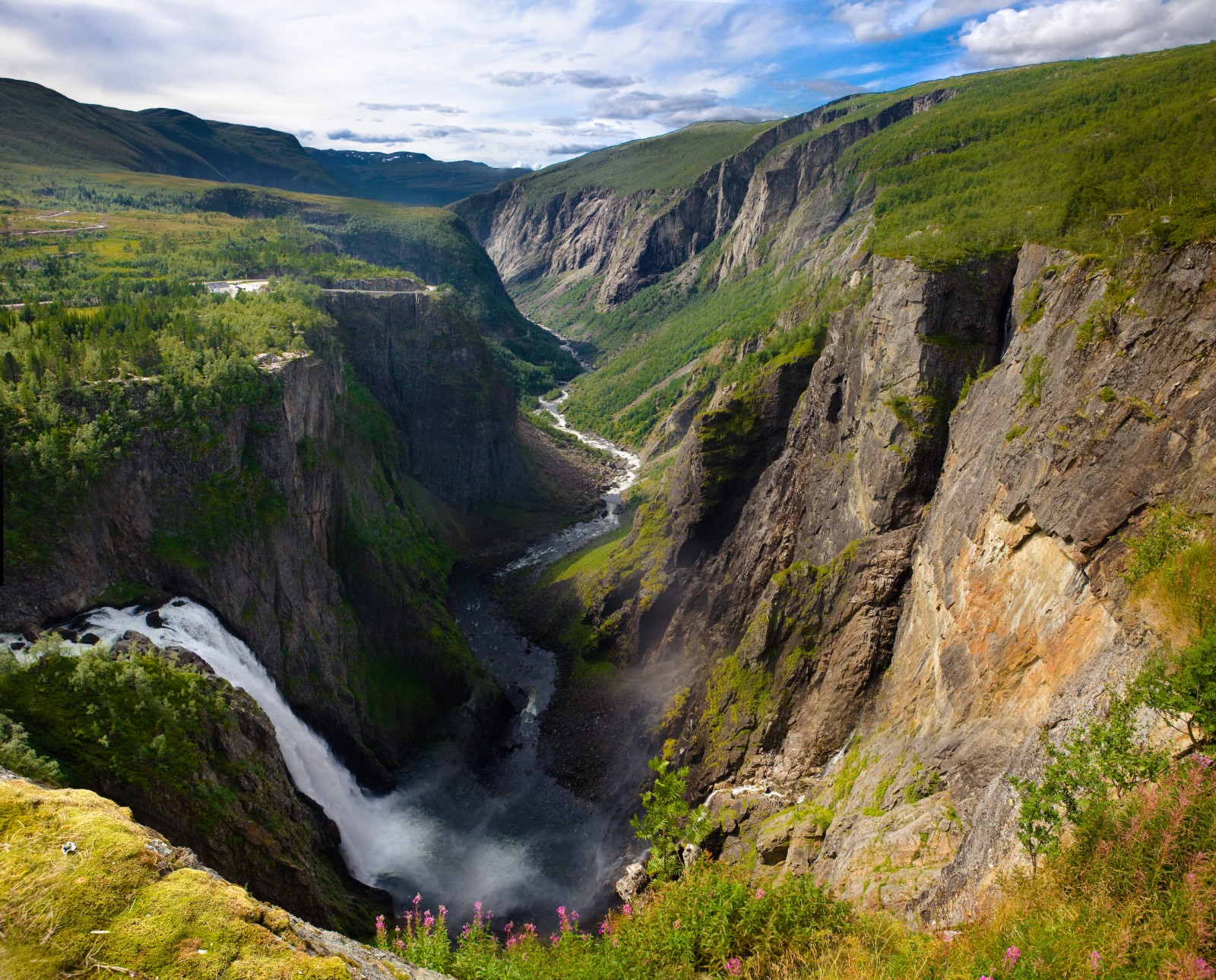 Today you have time to enjoy the hotel, the garden, swimming pool and maybe use one of the rowing boats at your disposal.
In addition, we will take a short trip to Hardangervidda Nature Centre Eidfjord, a modern and wildly exciting natural and cultural activity center for Norwegian landscape, climate and environment. Live exhibits on 3 floors, an aquarium, and interactive stations. See the great panoramic movie, produced by Ivo Caprino on 5 large screens. You get an exciting journey by helicopter over high mountains, deep valleys, beautiful waterfalls, wild reindeer and initial glaciers-an experience for the whole family.
Then a drive up to the top of Voringsfossen. Enjoy the spectacular waterfall, with a free fall of 145m, and a total drop of 182m.
Overnight at Hotel Ullensvang.
Day 6
Details for Today
Transfer to Flam, then to Bergen
Flam:
See the steep mountainsides, roaring waterfalls and deep valleys of Flam
Accommodation: Radisson Blu
Meals: B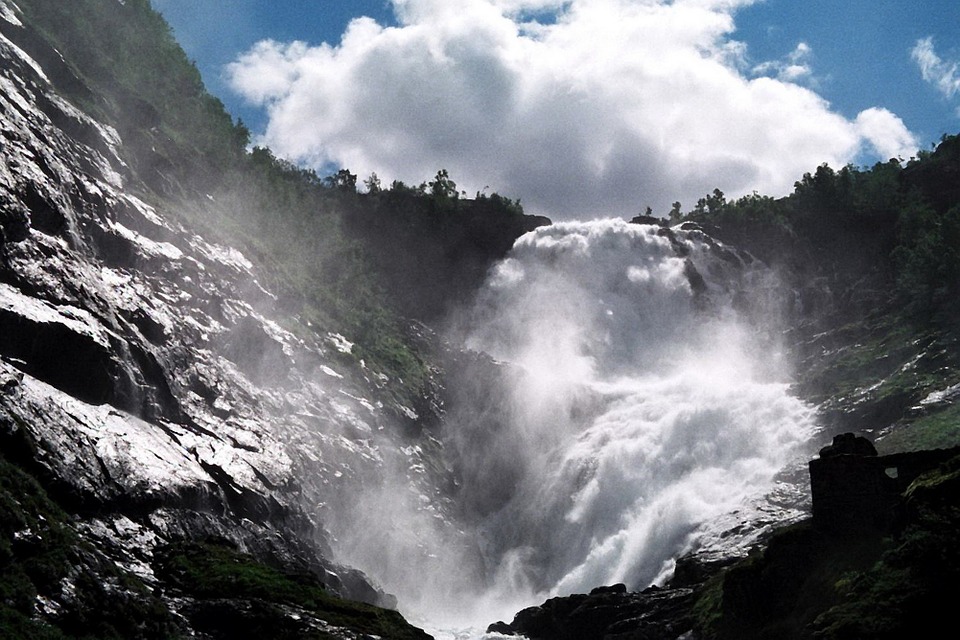 It's time to head towards Flam. On our way we will see amazing mountains in Stalheim area. You will drive down one of the steepest roads in Northern Europe, built during 1842-1846. The road has 13 hairpin bends, with Stalheim Hotel located at the top overlooking the road and the Naeroy Valley.
Flam is situated in the innermost part of the Aurlandsfjord, a tributary of the 204 kilometres long and up to 1308 metres deep Sognefjord. Surrounded by steep mountainsides, roaring waterfalls and deep valleys.
In Flam you will have a private RIB through the magnificent Naeroyfjord, on UNESCO's list of world heritages.
In Gudvangen we will take you inside the white mountain of Anorthosit with colours and darkness, silence and music, magic ponds, Grieg, Troll and Vikings.
Back to Bergen and overnight stay at Radisson Blu.
Day 8
Details for Today
Oslo sightseeing:
Holmenkollen Ski Jump
Vigeland Park – world's largest sculpture park
Fram Museum house
National Opera House
Accommodation: The Thief
Meals: B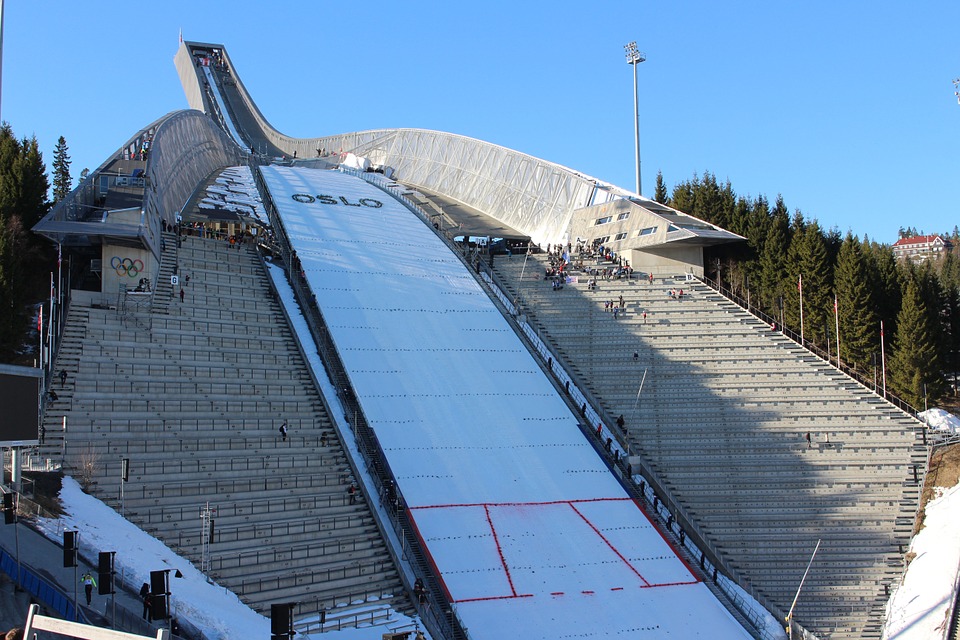 Enjoy a day of sightseeing in Oslo.
Holmenkollen Ski Jump has been at the heart of Norwegian skiing for over 100 years. The first ski jumping competition took place on 31st January 1892 when 12,000 spectators were present. The ski jump was constructed from branches and covered in snow. The Holmenkollen Ski Jump is world famous and represents an international symbol of ski jumping and ski sport.
The Vigeland Park is the world's largest sculpture park made by a single artist. The unique sculpture park is Gustav Vigeland's lifework with more than 200 sculptures in bronze, granite, and wrought iron. Vigeland was also in charge of the design and architectural layout of the park. The Vigeland Park was mainly completed between 1939 and 1949.
The Fram Museum houses the world's most famous polar ship, the Fram. Come on board and join the Norwegian explorers on their fantastic expeditions. Learn about the explorers. How and why did they go?
By the time the Norwegian National Opera & Ballet was finally able to invite the public into an opera house of its own in 2008, the wish to have a dedicated opera and ballet venue in Norway had debated for more than a century. An important step on the way to realizing it was taken in 1957 with the formation of the Norwegian National Opera and the appointment of the world-famous opera singer Kirsten Flagstad as its first director.
Overnight stay at The Thief.
Day 9
Details for Today
Oslo sightseeing by foot:
City Hall

National Theatre
Royal Palace
Nobel Peace Centre
Accommodation: The Thief
Meals: B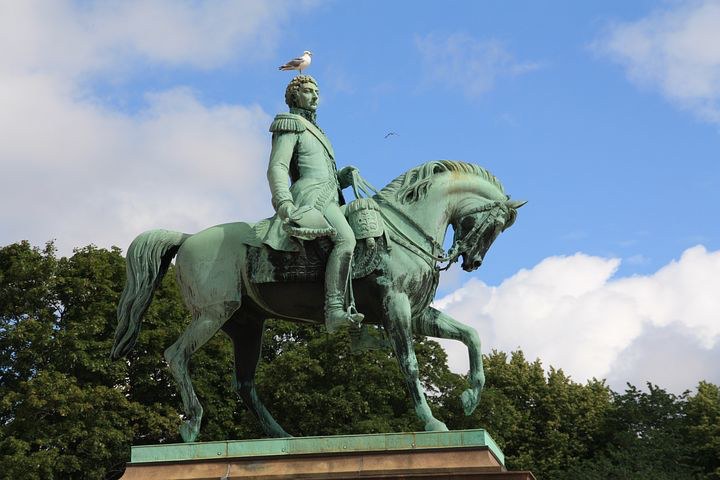 Today we do more sightseeing of Oslo, by foot.
In 1624, the city of Oslo was destroyed by fire, and the Danish-Norwegian King Christian IV decided to rebuild the city under the walls of the fortress of Akershus. Your walking tour starts at the modern landmark of the City Hall.
Take a closer look at the National Theatre and the Royal Palace; we then pass the University of Oslo and the Ibsen Museum. Visit the Nobel Peace Centre, inaugurated in 2005, whose mission is to keep the spirit of Alfred Nobels last will and testament alive.
Accommodation
Unlike many modern hotels, the Radisson Blu Royal Hotel, Bergen forgoes traditional high-rise style architecture in place of a skillfully crafted exterior, which allows this hotel to blend in perfectly with the delightful surroundings of the wharf. Guests may choose from 342 striking room and suites, all furnished in a chic, modern style. After settling in to your room, take advantage of the many amenities offered by the hotel, such as free high-speed, wireless Internet, access to our fitness center and Turkish spa.
---
Hotel Ullensvang, Hardanger, Norway 
Set along a fjord, this refined hotel is 2.9 km from Skrikjofossen waterfall. Warmly decorated rooms offer free Wi-Fi, satellite TV, and mini fridges; most have soaking tubs and balconies. There're a buffet-style eatery and a fireside restaurant, plus a bar, a nightclub, and a wine cellar. A luxe spa with indoor and outdoor pools features an 88m-long swimming channel and a sauna with panoramic fjord views. There's also a tennis court, along with canoe rentals and hiking trips.
---
This contemporary hotel in the trendy Tjuvholmen arts district is 1.6 km from the National Museum of Art and 4.8 km from Frogner Park. Stylish rooms and suites have balconies and offer flat-screens, entertainment systems, free Wi-Fi and Nespresso machines. Amenities include a sophisticated restaurant, 2 bars (1 rooftop) and a lounge. There's also a spa with a fitness room and a sauna.
Private-Guided Adventure in Norway (10 days)