Over 14 days, experience Southeast Asia on an intimate, exciting journey! Get involved in the bustle of Ho Chi Minh City, and stroll through the quaint, old streets of Hoi An. Feel the tranquility of Halong Bay as you kayak through inlets and caves, and learn about the deep, fascinating history of Angkor Wat. No matter where you go on this journey, you will find yourself immersed in culture, history and adventure!
Day 1
Details for Today
Arrive in Hanoi, Vietnam
Hanoi:
Accommodation: Sofitel Legend Metropole
Welcome to Vietnam!
Hanoi, Vietnam's capital with its ochre-colored colonial buildings, tree-lined boulevards and scenic lakes, is full of charm. Its history is tied to French colonialism and the architecture, cuisine and local culture still carry evidence of the French influence.
Upon arrival at the Hanoi airport, our immigration representative will meet you as you disembark the plane. After clearing immigration, our representative will escort you to collect your luggage and introduce you to your guide. It's about an hour's transfer to your hotel downtown. Your guide will provide a brief orientation of the city along the way.
The first thing you'll become aware of is the sheer number of motorcyclists in seemingly constant motion around town. About 92% of commuters travel by shared motorbike, sometimes carrying three of more people. Always keep your camera on hand as the traffic mayhem tends to offer fantastic photo opportunities! Check into your hotel on arrival and the remainder of the day is at your leisure.
Day 2
Details for Today
Hanoi:
Journey to Ho Chi Minh's Mausoleum and House
Visit the Temple of Literature
Learn about Vietnamese Culture at the Museum of Ethnology
Cyclo Ride through the Old Quarter
Enjoy a Show at the Water Puppet Theatre
Accommodation: Sofitel Legend Metropole
Meals: B, L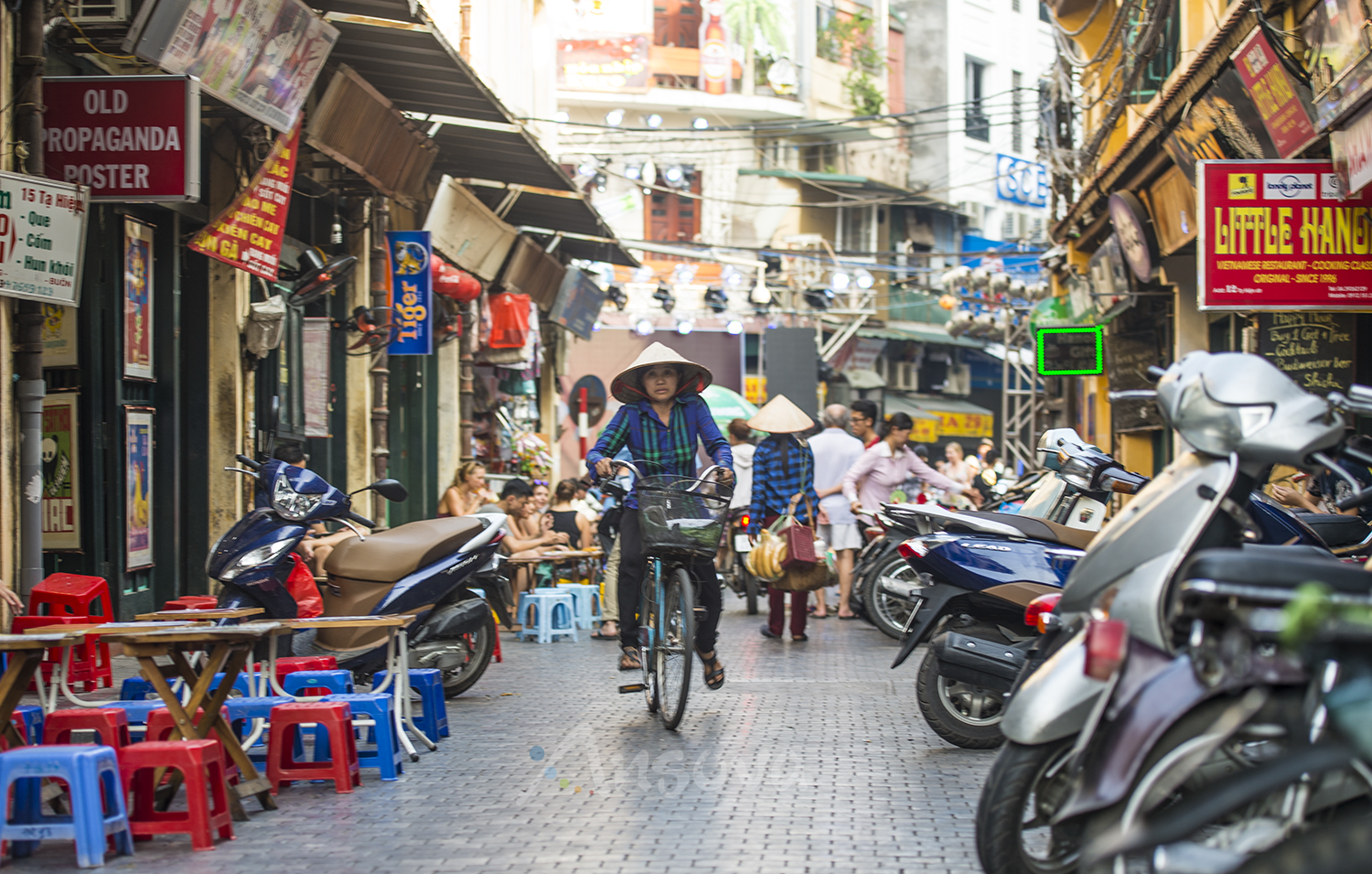 Today you will embark on a private tour of Hanoi! You begin at the historic Ho Chi Minh Mausoleum, an imposing monument lavishly built using marble and granite,where the embalmed body of "Uncle Ho" is at rest, then continue to visit the Ho Chi Minh's House.The simple house where Ho Chi Minh lived and worked is made of wood and enjoys a tranquil setting with a view of a lotus pond. HoChi Minh's belongings are on display and the home is open to explore and discover. A short walk from the mausoleum is the lotus shaped One Pillar Pagoda–resting on a single stone pillar emerging from the water. Inside is a statue of the Goddess of Mercy with its legendary" thousand arms and thousand eyes.Continue on to the Temple of Literature, the first Confucian University for the sons of mandarins. Among the stone tablets, your guide will offer an overview of Hanoi culture and the ancient Vietnamese architecture of the temple.
In the afternoon, enjoy lunch at the Wild Lotus Restaurant, one of Vietnam's finest establishments. Wild Lotus has been very tastefully designed and the architecture is almost as interesting as the food. With comfort and relaxation in mind, the designers have done a wonderful job using colors and shapes to create an environment into which one can immediately feel settled. Next, drive to visit the beautiful Museum of Ethnology to enhance your understanding of Vietnam's diverse culture through its unique presentation of objects & dress from a variety of Vietnam's 54 ethnic groups.
Drive back to central Hanoi for an hour Cyclo ride through the Old Quarter to enjoy the bustling local life. You will Cyclo along tree-lined avenues to the narrow warren of streets in the Old Quarter, where you can buy anything from a gravestone to silk pajamas. The maze of back streets is fascinating, and the area is known for its "tunnel"or "tube houses". They were developed to avoid taxes based on the width of their frontage onto the street, so their small frontages hide very long rooms. A Cyclo tour of the Old Quarter provides you with a glimpse of contemporary Vietnamese culture and a sense of the country's complex history at the same time.An optional end to your day is with a show at the water puppet theatre- a uniquely northern Vietnamese art form depicting scenes of rural life and episodes of national history. Drive back to your hotel for relaxation.
Day 3
Details for Today
Transfer: Halong Bay
Halong Bay:
Board Junk Boat

Explore Tien Ong Cave

Visit Cua Van Fishing Village

Participate in a Cooking Class
Accommodation: On board the Junk Boat
Meals: B, L, D
Depart for a 3.5 hour journey to Halong Bay stopping for a break at Dai Viet Center – the best place to stop and stretch your legs en route. On arrival in Halong Bay, board your junk, settle into your cabin and prepare your appetite for an enjoyable lunch on deck.
In mid-afternoon visit the mysterious Tien Ong cave, adorned with stalactites and stalagmites, and then continue to the Cua Van fishing village, the largest fishing community on the bay. Head back to the boat, participate in a cooking class with the chef or enjoy sunset on the top deck before dinner
Day 4
Details for Today
Halong Bay:
Participate in a Tai Chi class

Visit Cat Ba Island

Cycle to Viet Hai Village
Kayak in beautiful Ho Ba Ham
Accommodation: Onboard the Junk Boat
Meals: B, L, D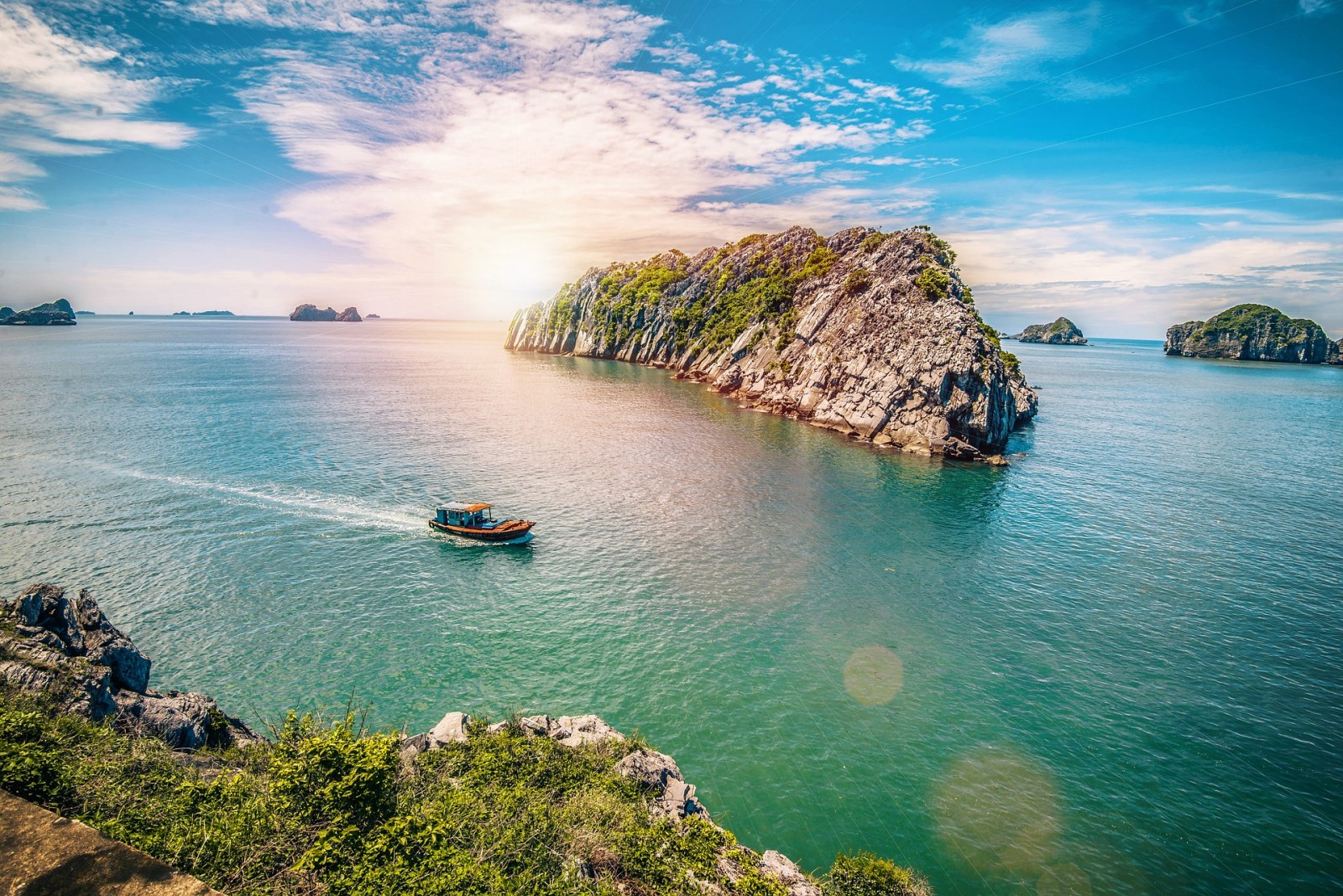 Rise early and greet the day with a refreshing Tai Chi class on the upper deck, then transfer to a smaller boat and cruise deeper into Halong Bay to Cat Ba Island. Breakfast is served en route. On arrival, hop on a bicycle and enjoy a leisurely ride along the waterfront, then through some forested areas of the small island on the way to Viet Hai village. Have a look around the village if you like and chat with some of the local residences. Later, head back to the boat and cruise to Ho Ba Ham while enjoying lunch on board.
In the afternoon, kayaks are available to explore the surrounding islets, caves and scenery further. By late afternoon, head back to the main boat and enjoy dinner and overnight.
Day 5
Details for Today
Halong:
Participate in a Tai Chi class

Explore the cavernous Sung Sot Grotto
Transfer: Fly to Hoi An
Accommodation: Anantara Hoi An Resort
Meals: B
Wake up early and partake in a Tai Chi class which is held on the upper deck. Then explore Sung Sot grotto where stalactites hanging from the high ceiling takes on numerous shapes and forms. Return to your boat where brunch is waiting.
Arrive at the jetty late morning and transfer to Hanoi airport with light snack provided en route. Transfer directly to Hanoi airport. Board on the flight to Danang. Upon arrival at Danang airport, you will be met and transferred 30 minutes to your hotel in Hoi An for check in.
Day 6
Details for Today
Hoi An: 
Guided Tour of Old Town Hoi An
Hand Craft Traditional Lanterns with Locals

Private Garden Tour & Cooking Class at Red Bridge Cooking

School

Cruise along Hoi An River
Accommodation: Anantara Hoi An Resort
Meals: B, D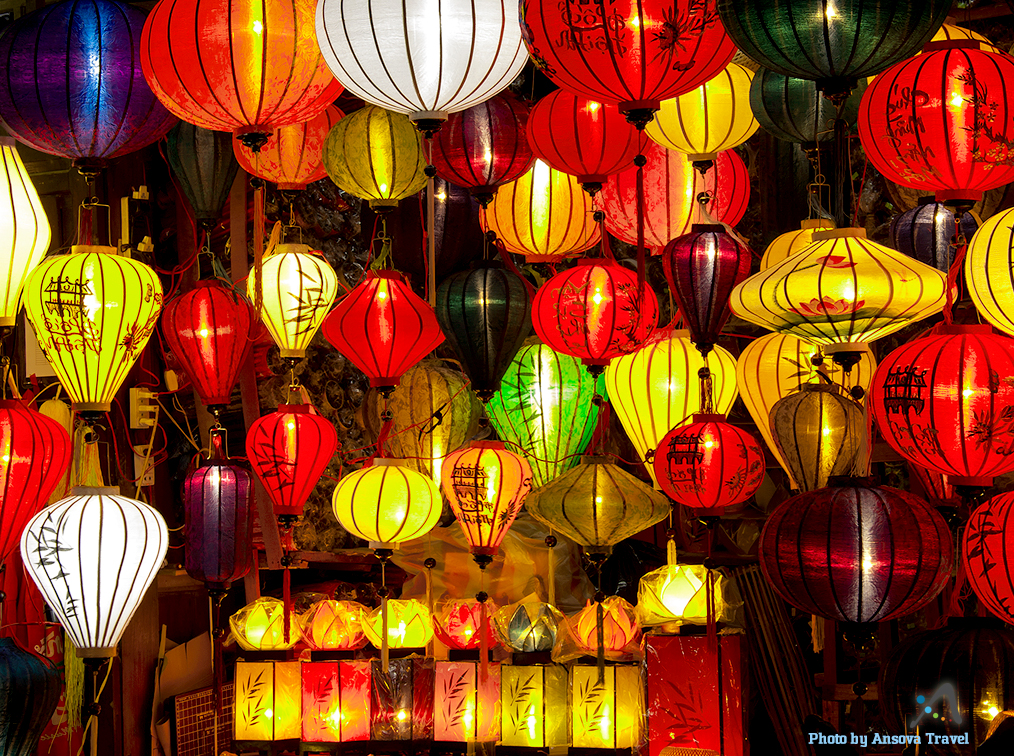 This morning, your guide will lead you through Hoi An's historic Old Town, a UNESCO World Heritage Site. The picturesque riverside town was a major trading port between the 15th to 19th centuries. Mansions built by prosperous Japanese, Chinese, and European merchants characterize the enchanting Old Quarter. Appreciate the vivid sense of history as you walk the narrow streets visiting temples, houses, and artisan workshops. Afterwards, visit the home of a lantern craftsman in the old streets of Hoi An for a brief introduction. Learn more about the history, shape, and colour of the lanterns as well as the stages of production. Try to create your own lantern and produce your very own souvenir.
In the afternoon, you will enjoy a private garden tour & cooking class at Red Bridge Cooking School. Start with a welcome drink served at the Hai Café. After a short introduction, travel 10 minutes to Tra Que Organic Village, and walk through the market gardens where local farmers work their fields using the traditional methods of hundreds of years ago. Pick fresh saw-tooth coriander and Vietnamese mint for your cooking lesson later today, before trying a special herbal drink at a local home. Transfer onward to the Red Bridge Cooking School where you have a chance to freshen up before beginning your class. Work together with the Red Bridge Chef who teaches you the traditional ways of preparing and cooking Vietnamese food from scratch. Use the freshest ingredients and traditional Vietnamese utensils to prepare four famous dishes, including the national dish: Pho.
After class, enjoy a short feedback session and take the chance to savour the dishes you have prepared. Bid farewell to the chef and board a local boat for a short cruise along the Hoi An River back to central Hoi An. Drive back to your hotel for relaxation.
Day 7
Details for Today
Transfer: From Hoi An to Hue
Hue:
Guided Tour of the Imperial Citadel

Visit of the famous Thien Mu

Scenic Cruise Along the Perfume River
Accommodation: La Residence Hue Hotel
Meals: B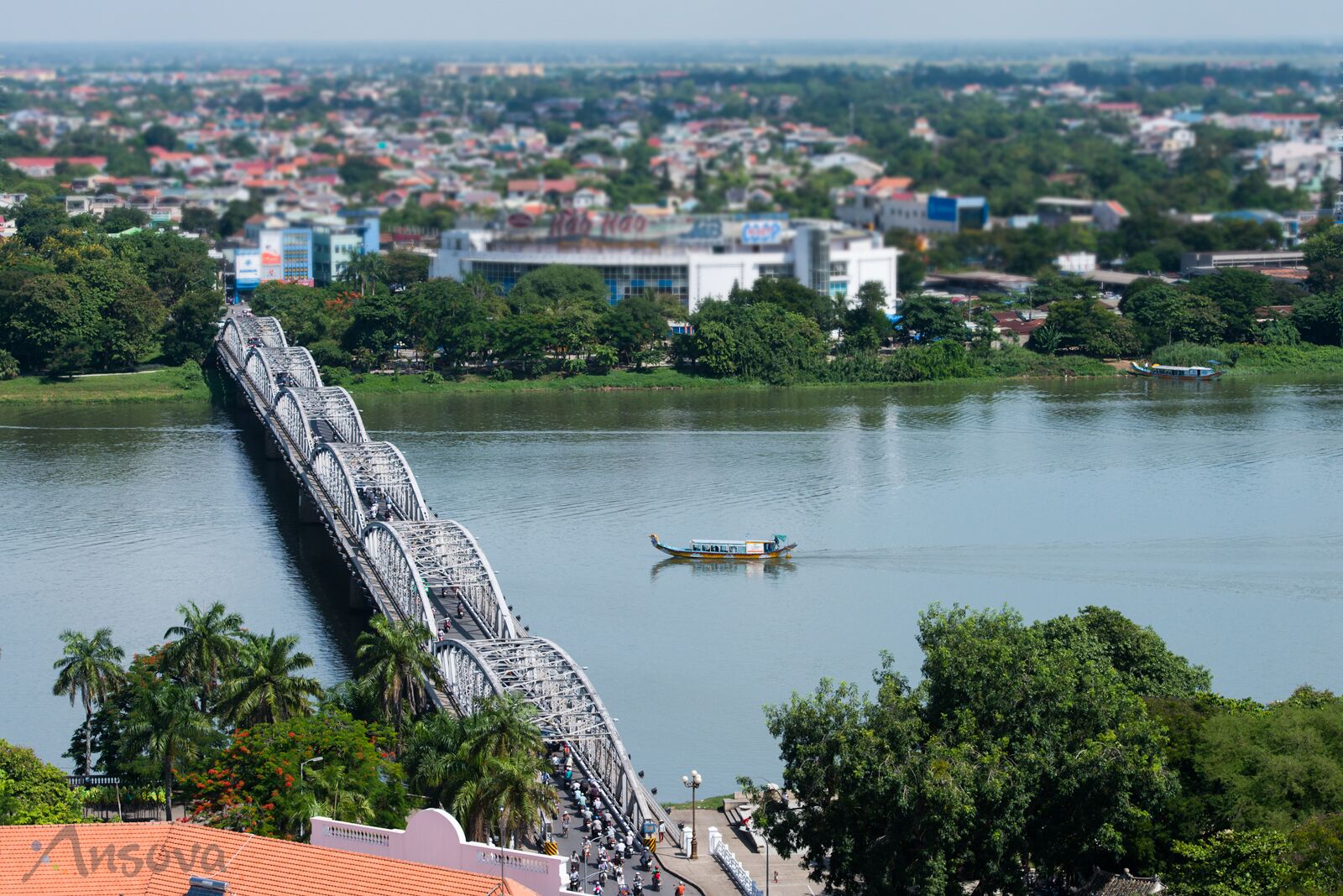 After breakfast, check out of the hotel. Depart for a 3 hour drive over the Hai Van Pass and enjoy a spectacular panorama of the central coastline from its summit. Continue to Hue and check in to your hotel upon arrival.
This afternoon, start from your hotel to visit the Imperial Citadel a UNESCO listed site. Enter through the towering main gate and you will appreciate the magnificent architecture and gardens while your guide explains the events and the intrigue of the former royal court. This will be followed by a visit of the Thien Mu (Heavenly Lady) pagoda–the most beautiful pagoda located atop a hill with magnificent views across the river. Then sit back for a scenic cruise along the Perfume River. Transfer back to your hotel.
Day 8
Details for Today
Hue:
Half day Cycling Around the Countryside to Thuy Bieu Village
Guided Tour of Voi Re Temple and Tiger Arena

Lunch with Celebrated Gastronomy Artisan, Mrs. Nhu Huy

Visit Khai Dinh Royal Tomb

Experience a Royal Martial Arts Performance
Accommodation: La Residence Hue Hotel
Meals: B, L
This morning, enjoy a half day cycling around Hue countryside (15km). Thuy Bieu village, located near the famous Perfume River, is one of the oldest and most unique villages in Hue. Shuttle 4km to see this interesting village and the surrounding area. Take a bicycle trip, passing by family temples, orchard gardens and paddy or corn fields before visiting a local home where the family members have been making incense sticks for generations. Chat with them to get a glimpse of their everyday daily lives and effort to keep the traditional craft alive. Continue your bicycle trip to Voi Re Temple and Tiger arena where your guide will explain how the Emperors in Nguyen dynasty were entertained.
Drive back to Hue. Enjoy a home hosted lunch with the celebrated gastronomy artisan, Mrs. Nhu Huy. She is a professor, author of cookbooks, food television presenter in Vietnam and Europe and the recipient of several prestigious talent awards in Vietnam. She has a treasure of stories to tell you about culinary art life and career. Salt Rice, one of the most opulent and symbolic dishes in the former Imperial capital of Hue, has made a comeback thanks to the Master Chef Mrs. Nhu Huy. There are up to nine kinds of salt such as from sesame, lemongrass, galingale, shrimp and the dishes are prepared by frying, steaming and braising. You can speak with Mrs. Nhu Huy, who was born and grew up in a Royal family, to understand her effort to search and preserve ancient recipes. It is necessary to enjoy these dishes slowly to enhance the fragrance of rice and the salty, peppery, sweet, and sour taste of different types of salt rice.
After lunch, drive out 30 minutes to the elaborate Khai Dinh Royal Tomb. Its architecture and atmosphere showcase elements of eastern art and western designs. Transfer back to your hotel with a stop to enjoy a great cultural feature inherited from the Nguyen Dynasty, Royal Martial Arts performance. A 30 min-long performance of different martial art techniques is reminiscent of the past heroic plots of Vietnamese patriots against colonialists, suppression.
Day 9
Details for Today
Transfer: Fly to Saigon
Saigon:
Half Day of Sightseeing

Visit the Notre Dame Cathedral

Stroll Through Ben Thanh Market

Private Vespa Street Food Evening Tour
Accommodation: Caravelle Hotel
Meals: B, L, D
Fly to Saigon or "Ho Chi Minh City", Vietnam's largest city. Upon arrival at the Saigon airport, you'll be met by your guide and transferred directly to the Hoi An Restaurant for lunch. The restaurant is located on 2 floors and the interior is full of the antique had crafted furnishings of Vietnam. The shuttered panels that divide the dining areas upstairs lend privacy but at the same time an open feel to a room. Dine on a variety of Vietnamese cuisine with a hint of European influences.
After lunch, you will be transferred to your hotel for check in. Then, enjoy a half day sightseeing tour to admire Saigon's historic landmarks. Your guide will present the historic overview of the city as you take in the main points of interest. It's an energetic city and the architectural disorder gives you some idea of the rapid growth over the past decade. The past and present may be found on the same block; French colonial heritage buildings flanked by a flashy Louis Vuitton boutique. Wander up to the Notre Dame Cathedral, a red brick edifice with twin spires based on the original construction from Paris. (It is only possible to visit inside when no service is being performed) Then head across the square to the Central Post Office, designed by the French architect, Gustav Eiffel, before he had risen to fame for the Eiffel Tower.The former Presidential Palace, the headquarters of the Saigon Government during the American war, is a short drive away and reveals the history of Saigon during its turbulent recent past. Finally, you will end the day with a stroll through the bustling Ben Thanh Market.
Enjoy a private Vespa Street food evening tour. With all its hustle & bustle, Saigon is a city on the move! Discover what this thriving and exciting metropolis can offer in terms of street food, all from the back of a vintage Vespa scooter. After a briefing at your hotel lobby about the logistic, be introduced to your driver and start the journey. Stops include dinner and drinks at Saigon's best authentic street food, and a Vietnamese-style coffee shop. Drive to District 4 to taste various snail dishes which are very popular in Saigon. Then it's back to District 3 to sample a southern Vietnamese special ty Banh Xeo (rice pancake with pork and prawns). Finally, head to a local Vietnamese style coffee shop and enjoy a local coffee.
Day 10
Details for Today
Saigon:
Wooden boat excursion on the Mekong Delta
Visit renowned Cai Be Floating Market
Accommodation: Caravelle Hotel
Meals: B, L
The Mekong Delta, south west of Saigon, is known as the rice bowl of Vietnam. Join our wooden boat excursion today on the charming Mekong Queen to explore the Mekong Delta's unique market and also the symbol of the region, Cai Be floating market. Just only 2 hours away from Saigon, beautiful countryside sceneries and hospitable people are waiting for you. Board our traditional boat at the local pier and begin cruising around the floating market while sampling our tropical fresh fruits. You will find this place a destination to spend the day truly relaxing. You will be surprised by the way the locals trade and advertise their products. Disembark the boat temporarily to explore deeper about the local life by visiting the town's business and craft factories before we transfer you to an ancient Mandarin house where a delicious home hosted lunch with Mekong's specialties awaits.
After lunch, enjoy a short sampan ride before we continue to cruise upstream the Mighty Mekong toward Vinh Long. Along the way, enjoy an intimate visit to a beautiful orchard with several kinds of tropical fruits. Here, let your soul blend with the Vietnamese traditional melodies of "Vong Co" before we take you back to the mainland where your car will already be waiting to take you back to Saigon.
Day 11
Details for Today
Saigon: 
Visit the famous Cu Chi Tunnels
Transfer: Fly to Siem Reap
Siem Reap: 
Accommodation: Belmond La Residence d'Angkor
Meals: B, L
Check out of the hotel, then enjoy a two hour drive northwest of Saigon, through urbanized areas and typical lush southern Vietnamese countryside, to the famous Cu Chi tunnels. This network of tunnels, which stretched for over 200km, became legendary during the 1960s. The Cu Chi tunnels played a vital part in the U.S.-Vietnam War in that they allowed the Viet Cong to control a large rural area only 30 to 40 km from Saigon. At its height, the tunnel system stretched from Saigon to the Cambodian border. The network, parts of which were several levels deep, included innumerable trap doors, specifically constructed living areas, storage facilities, weapons factories, field hospitals, command center and kitchens. Today the remaining tunnels have become a major tourist attraction giving the visitor a glimpse of the underground life and strategy during the war. A visit to the underground villages will provide a better understanding of the tunnels' history, the hardship of life in the tunnels and the Vietnamese resilience during combat. Afterwards, you will be transferred back to the Saigon. Alongside the locals you will sample of bowl of Vietnam's national dish -Pho noodle soup at Pho 24 for your light lunch before transferring to Saigon airport for your flight to Siem Reap.
Siem Reap is a pleasant, sleepy backwater serving as a gateway to the ancient capital of Angkor. It is difficult to believe that at its peak in the 12th century, this was one of the most advanced civilizations in the world and home to more than 1 million inhabitants. Upon arrival inside the immigration hall, our representative will assist to fast track your visa application and then escort you to meet your local guide. You will then be transferred to your hotel downtown. Your guide will give a brief orientation of some major landmarks en route to the Belmond La Résidence d'Angkor, your deluxe home for the next three nights. Check into your hotel on arrival and remainder of the day is free at leisure.
Day 12
Details for Today
Siem Reap:
Watch the sunrise over Angkor Wat Temple
Guided Tour of Khmer Ruins
Private Gourmet Picnic at Khmer Traditional House
Visit Ta Prohm Temple
Explore the Ancient Royal City of Khmer Empire, Angkor Thom
Accommodation: Belmond La Résidence d'Angkor
Meals: B, L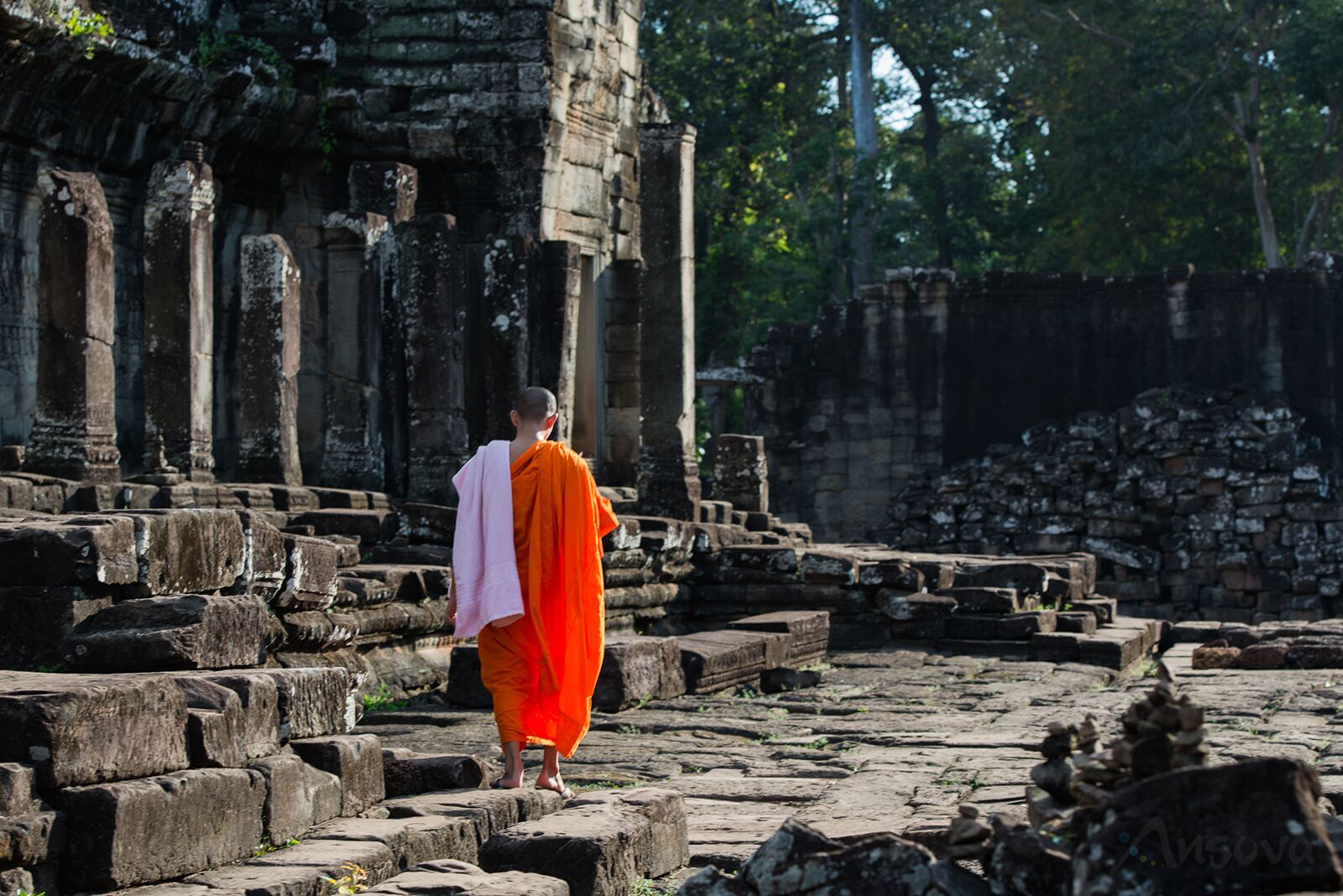 If you're an early riser consider catching sunrise over Angkor Wat temple. It is certainly one of the most unique places in the world for sunrise but be forewarned, you won't be alone! Return to your hotel for breakfast. After breakfast, travel by three-wheeled tuk tuk to visit the intricately carved Khmer ruins at Angkor Wat–one of the most important religious monuments in the world. Visit the site with a renowned Khmer scholar who works with the Angkor Temple Conservation Institute. He will draw on his vast knowledge to provide you with a concise overview of Khmer history and culture through the lens of archeology. Learn about some of the unanswered mysteries that face contemporary scholars, as well as the challenges of archeological conservation. Take a stroll through the elaborate carved hallways of Angkor Wat as the Khmer empire is brought to life through the stories contained in each of the bas-reliefs and murals.
Enjoy a private gourmet picnic lunch at Khmer Traditional House, which is located near Banteay Kdei and Ta Prohm temples, in front of Srah Srong Royal bath. The house belongs an anthropologist that has been living in Cambodia for nearly 20 years but she is now based in Phnom Penh Capital city. The house is left and taken care of by a neighboring local family. The house is fully equipped with electricity and a bathroom, all set in an old style. Later, visit another impressive temple – Ta Prohm. This beautiful site is one of Angkor's jewels, overgrown with strangler figs that create a haunting scene. The magnificent roots of the trees have merged over the centuries with the temple's massive stone blocks, creating a 'forgotten city' feeling. Continue your exploration with a leisure walk from Victoria gate to dead gate where you enter Angkor Thom, the ancient royal city of Khmer Empire. Visit the Terrace of the Elephants, which served as a platform from where the King could welcome back his victorious army and the Terrace of the Leper King, which holds detailed carvings winding along a narrow passage way that leads to the Baphuon complex.
You will end the day with a visit to the Ancient Royal City's centre piece; the Bayon temple.As you approach, you will notice the enigmatic faces of former King Jayavarman VII looking into every direction. Late afternoon is a perfect time to visit this highlight as crowds flock to Angkor Wat for sunset, leaving the Bayon standing majestically in the beautiful late afternoon sunlight to explore without the crowds. Return to your hotel for a well-deserved rest.
Day 13
Details for Today
Siem Reap:
Participate in a Private Blessing Ceremony
Visit Banteay Srei Temple
Kayak around the Floating Village on the great Tonle Sap Lake
Accommodation: Belmond La Résidence d'Angkor
Meals: B, L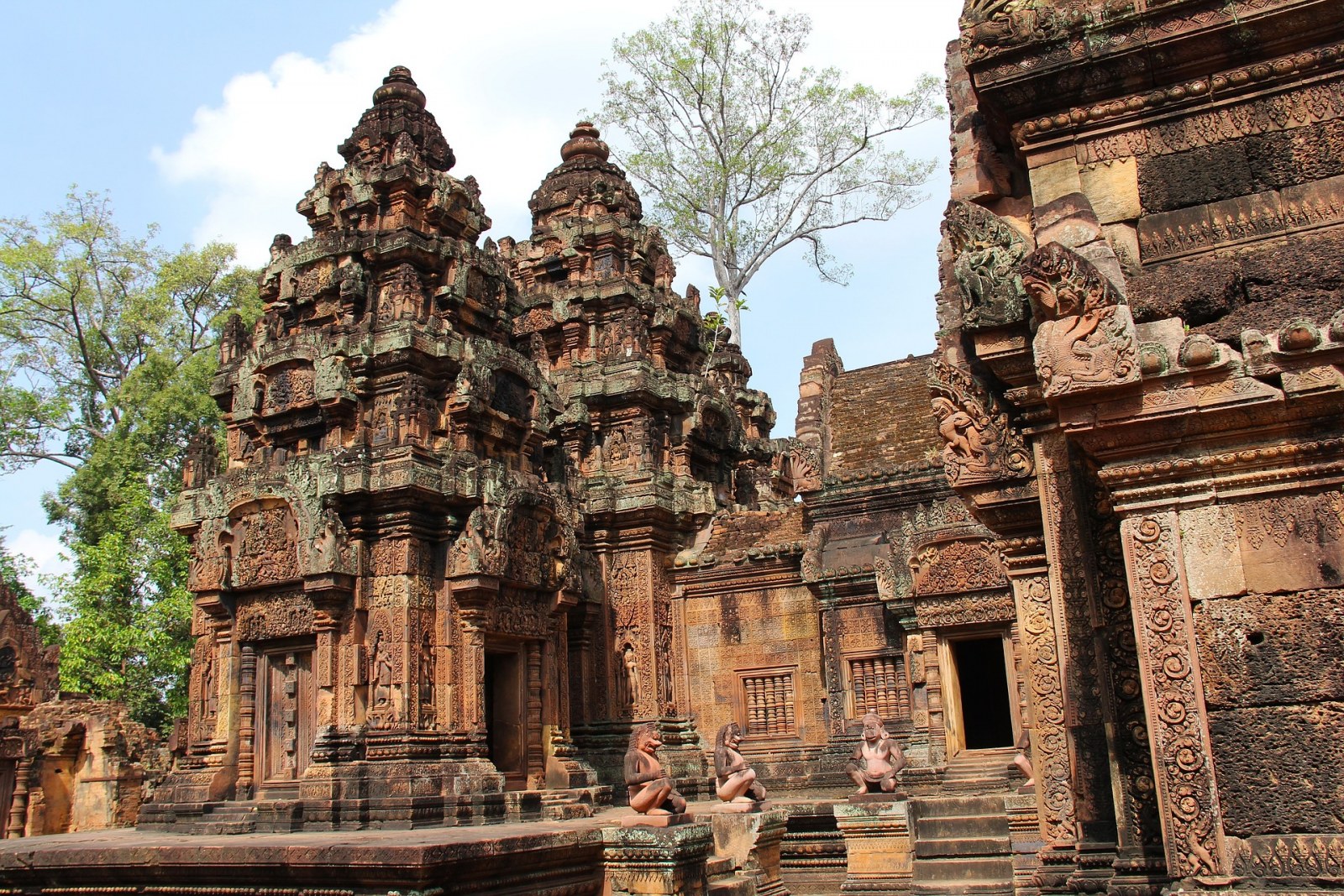 After breakfast, you will be transferred to Wat Damnak, one of Siem Reap's most beautiful pagodas. The French colonial architecture reflects its history and serene Buddhist statues positioned around the spacious grounds create a tranquil atmosphere. Bring candles and incense sticks to the pagoda to participate in a private blessing ceremony, performed by the resident monks. Sit on a hand-woven mat while the monks chant ritual blessings and sprinkle holy water (believed to offer good luck) before tying a sacred thread around your wrist. The monks will offer you a small keepsake to remind you of this special moment. Then continue your exploration with a visit to Banteay Srei temple. This red sand-stone temple is one of Angkor's most significant structures as its walls are decorated with elaborate carvings which have been preserved remarkably well. They provide an excellent insight into the Angkor civilization and their beliefs. It was built in the 10th century by a high-ranking Brahmin (rather than a king) and was dedicated to the Hindu god – Shiva.
Drive back to Siem Reap for lunch at the FCC Angkor Kitchen. Located at the stylish Foreign Correspondents' Club Angkor, the Angkor Kitchen is an ideal venue for almost any taste or pocket. Think Fish Amok and Cambodian Curry, Papaya Salad and Fried Vegetable Spring Rolls – while deftly traveling the culinary globe. With indoor, outdoor, balcony and al fresco pool-side dining, the Angkor Kitchen is open for breakfast, lunch and dinner. The Angkor Kitchen is also home to a lively bar which reflects the casually elegant ambiance.
After lunch, you will be transferred to the floating village on the great Tonle Sap Lake. Your journey begins by witnessing the beautiful rice paddies and the daily life styles of the local people before arriving at the boat dock. Here you will board a quaint local boat which will take us to the amazing floating village for your unique kayaking experience. On arrival, as you kayak gently through this floating village, you will be welcomed by warming smiles from the humble Cambodian people who live on this fantastic lake. You can cruise on the boat in the village and kayak gently to the Tonle Sap Lake with great scenery and seeing rare birds. Our professionally trained guide will be able to explain the local customs on how the local people live, work, and trade before stopping a great spot for a stunning sunset over great Tonle Sap Lake, if you choose to do the sunset before transferring back by boat where our air conditioned vehicle will be waiting to transfer you back to Siem Reap.
Day 14
Details for Today
Transfer: Flight home!
Meals: B
At your leisure in the morning, then you will be transferred to the airport for your departure flight home. Check out of hotel by noon.
Vietnam & Cambodia Highlights (14 Days)