This 10-day Costa Rica adventure is tailored for families looking for some fun and wild activities, and looking to discover nature up close.
Day 1
Details for Today
Arrive in Costa Rica
Transfer to Arenal
Accommodation: Volcano Lodge & Springs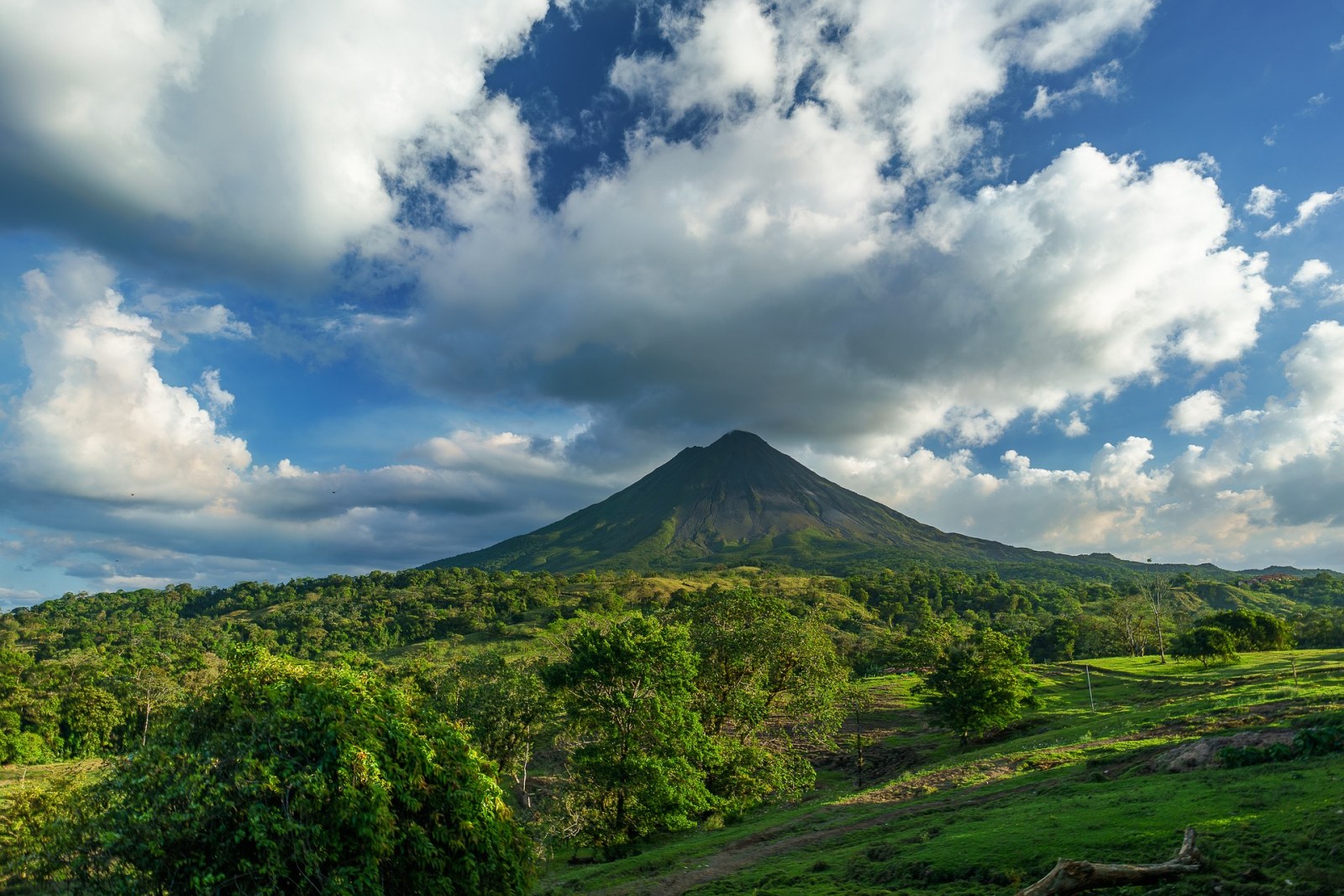 Arrive at Juan Santamaría International Airport!Join your Service guide and driver, and depart for the approximate 3 hour drive to the Arenal Volcano area.
Arenal Volcano, with its almost perfect cone, soars 1,633 meters above sea level and has a crater 140 meters deep. The frequency of activity varies greatly from day-to-day. Although the main attraction in this region is the volcano, the area offers a variety of activities including boat tours on the lake, a canopy walkway, hot springs, horseback riding, canyoning, sustainable farming and biking, just to name a few.
Day 2
Details for Today
Arenal:
Private Hanging Bridges Hike
Accommodation: Volcano Lodge & Springs
Meals: B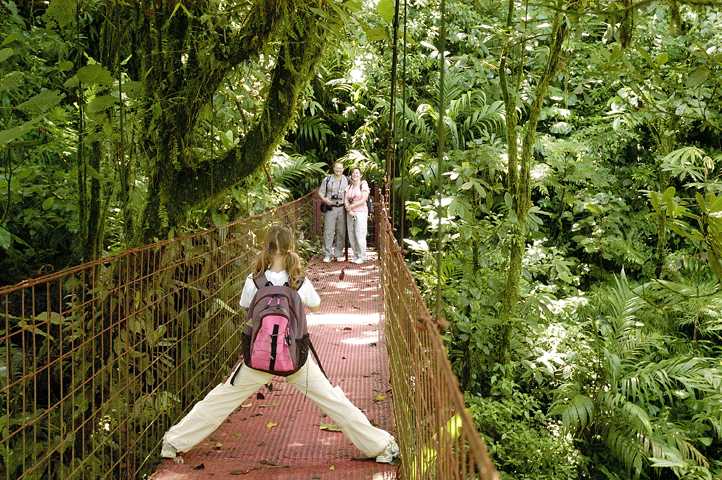 Arenal Hanging Bridges are 4 km (2.5 miles) west of Tabacon within a 250 hectare (618 acre) reserve of primary forest. Visitors may enjoy 15 bridges from 5 to100 meters long, designed along 3 km rain forest circuit of interpretive trails built with paving blocks to prevent slipping. The bridges are built of aluminum, galvanized steel and concrete, to ensure maximum security for their visitors. All of this under supervision of a guide.
Day 3
Details for Today
Arenal:
Sky Trek Adventure in Arenal Theme Park
Accommodation: Volcano Lodge & Springs
Meals: B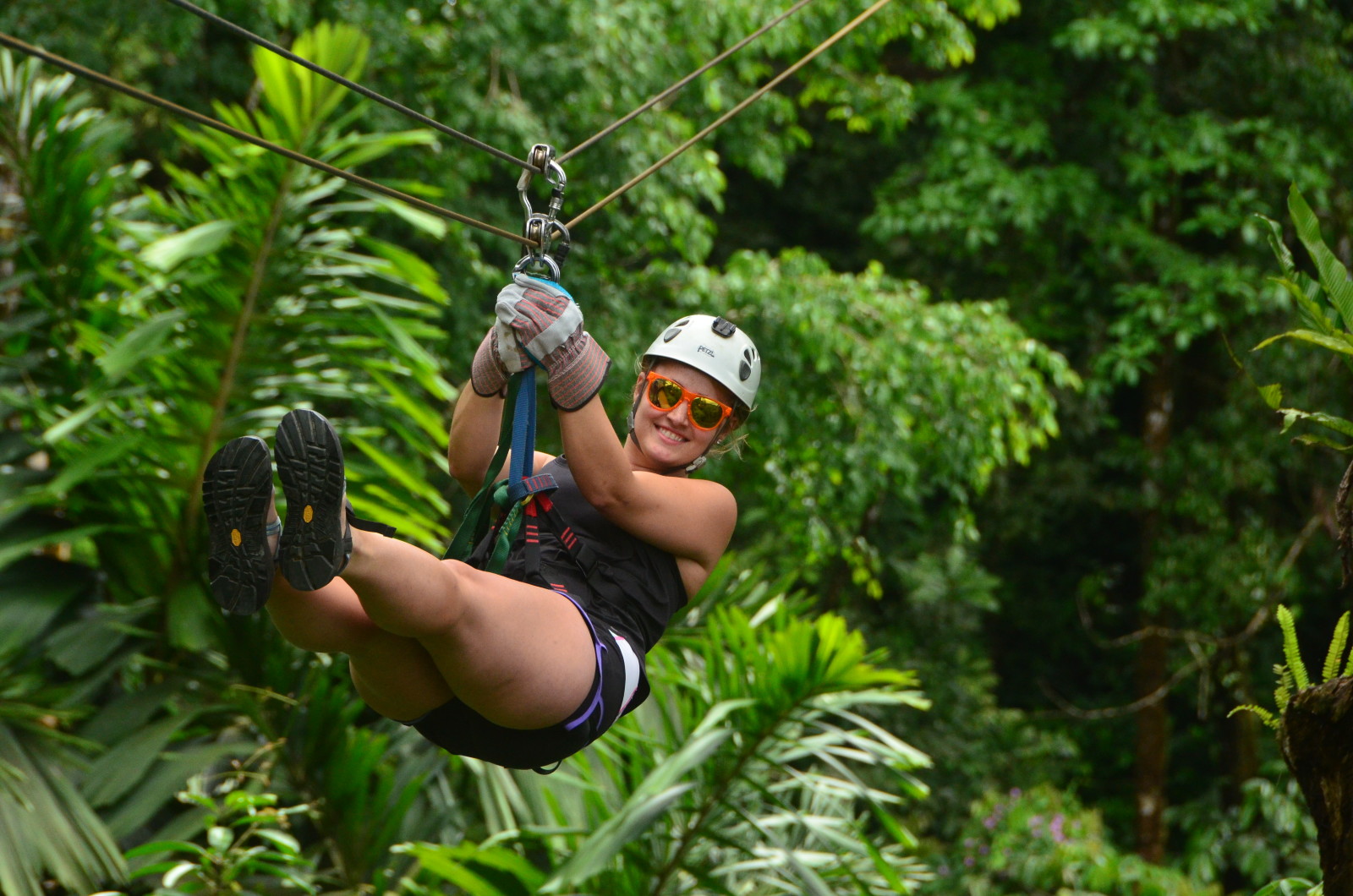 After being picked up at your hotel, you will be driven to a private reserve near the north-facing slopes of the Cordillera de Tilarán. Here, you will be ride the Sky Tram, rising 236 meters to a lookout point where your Sky Trek zip line circuit begins. There are currently ten zip line cables and they range in height from 30 meters to 200 meters and in length from 200 meters to 750 meters. Before leaving the main building to start your tour, you will be fitted with all of the necessary safety equipment (harness, helmet, gloves), which the guides will take care to properly adjust.  Zipping along nearly two miles (three kilometres) of cables, you will see the rain forest as well as get a panoramic view of the volcano and lake from a whole new perspective!
Day 4
Details for Today
Transfer to Monteverde
Accommodation: Trapp Hotel Monteverde

Meals: B, D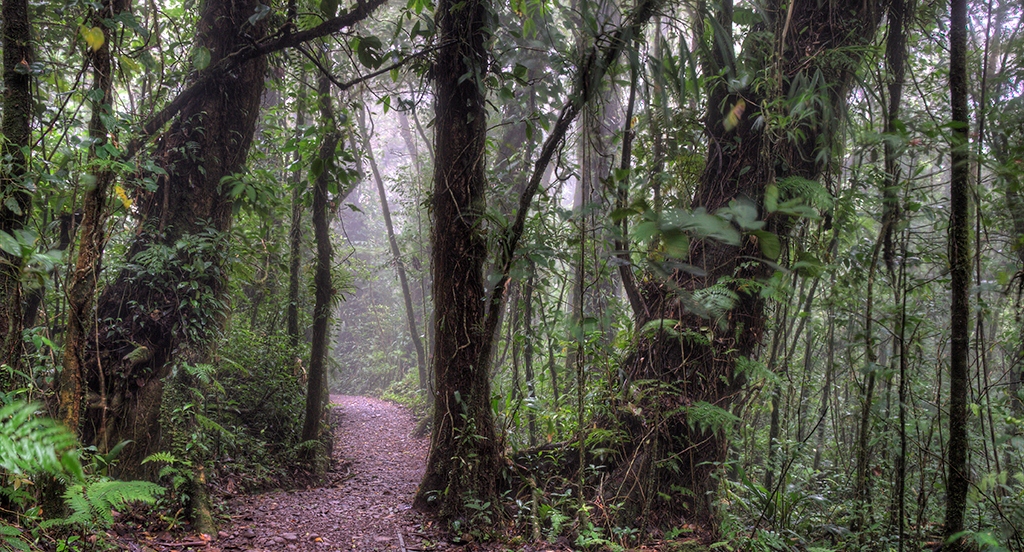 This morning you depart on a land and boat transfer to Monteverde. Transfer to the boat launch area at Lake Arenal Dam to board a boat to across the lake (approximately 30-40 minutes depending on wind conditions). The boat will dock at Rio Chiquito a small town on the shore of Lake Arenal, where you will board a 4 wheel drive vehicle for a 2 hour ground transfer to the Monteverde area. Total transfer time from Arenal to Monteverde area via Lake Arenal is approximately 3 hours.
Monteverde is a peaceful community made up of dairy farmers, naturalists and tourism service providers who have joined together to create a model for sustainable development and protection of the environment that is becoming known throughout the world. Founded in 1954 by a group of Quakers searching for a peaceful place to live, it is the home of Monteverde Cloud Forest Reserve, the Children's Eternal Rain Forest, and the Santa Elena Reserve.
Day 5
Details for Today
Monteverde:
Monteverde Cloud Forest Reserve
Horseback Riding
Accommodation: Trapp Hotel Monteverde

Meals: B, L, D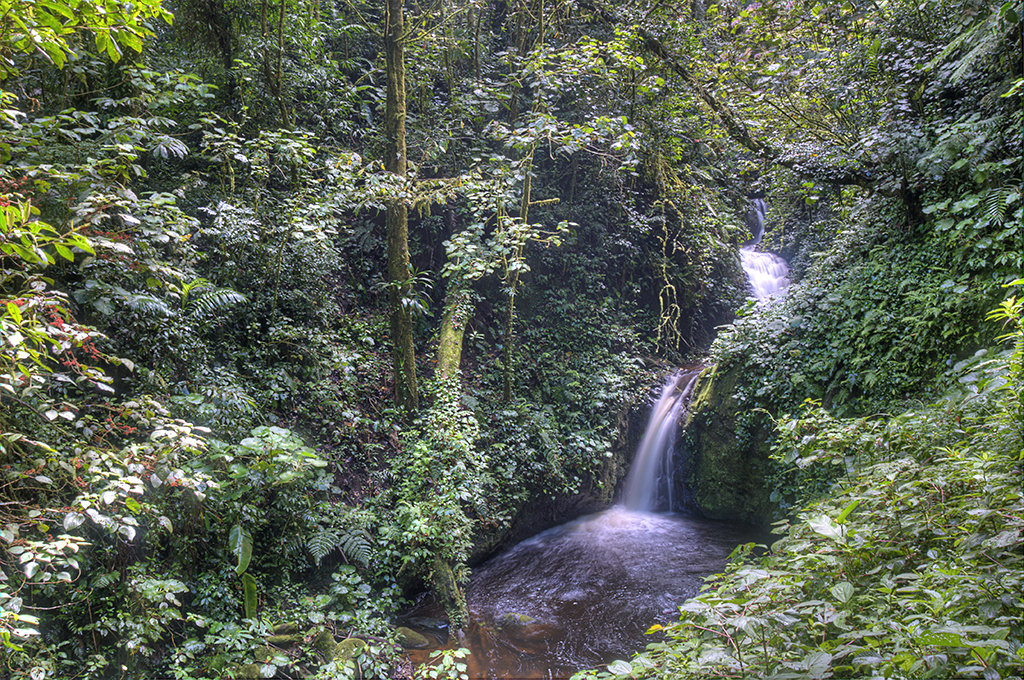 Drive 20 minutes to the entrance of the Monteverde Cloud Forest Reserve accompanied by a local Naturalist Guide. Originally just 4,000 acres, the Monteverde Reserve now includes a protected area of approximately 25,000 acres, comprising six different life zones. So many habitats in such a small area, along with extensive trail improvements, allow visitors to enjoy a rich diversity of flora and fauna with relatively short distance and easy walking. It encompasses six different ecological life zones and is home to more than 100 species of mammals, 400 species of birds and 1,500 species of plants. From January to July, depending upon your luck and patience, you may observe the Resplendent Quetzal. Other species include the Three-wattled Bellbird, the Emerald Toucanet, and White-faced and Howler Monkeys.
In the afternoon, transfer from the hotel to El Rodeo ranch where some of the best horses in town are stabled. You will have the opportunity to do a test ride in the corral to make sure that you are comfortable. Next set off with your local guide on your two-hour horseback ride through patches of secondary forest, open fields, coffee and banana plantations with views of the Gulf of Nicoya. 
Day 6
Details for Today
Transfer to Manuel Antonio
Accommodation: Si Como No Hotel & Resort
Meals: B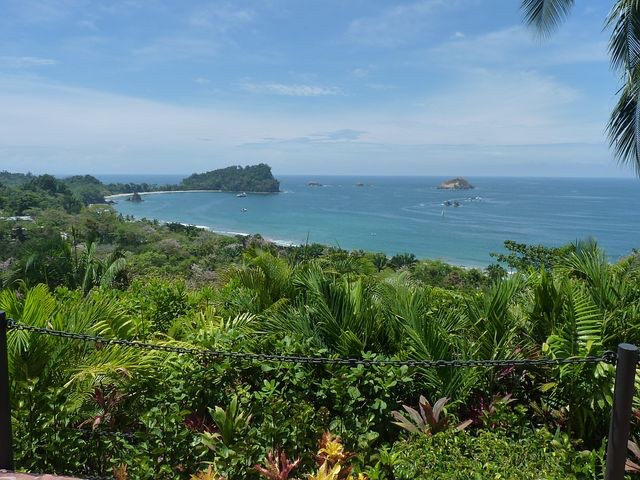 Depart this morning for the approximate 4 hour drive to the Manuel Antonio area.
White-sand beaches, cliffs, promontories, ravines, rivers, rainforests, varied wildlife, beautiful seascapes and a hot climate all describe Manuel Antonio. Located on Costa Rica's Central Pacific Coast 4.3 miles (7 kms) south of Quepos Harbor, Manuel Antonio is one of Costa Rica's most popular beach destinations and is sometimes compared to Key West. 
Day 7
Details for Today
Manuel Antonio:
White Water Rafting on Savegre River
Accommodation: Si Como No Hotel & Resort
Meals: B, L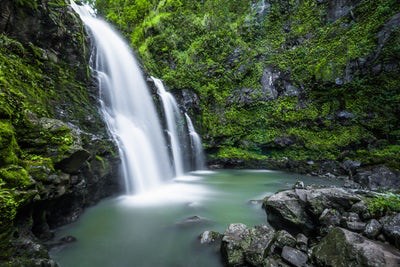 Considered one of the cleanest rivers in Central America; the Savegre is an authentic family adventure – Relaxation and action, while enjoying the landscape! 
After a safety briefing, begin maneuvering rapids like "Gringo Eater", and "Boca Diablo". Stop for a snack of fresh fruits and cookies. Before the end you hit "Santo Domingo" rapid and then the river calms down until you meet with our mini bus. A 15 minute drive will take you to where a hot Costa Rican meal will be served for lunch.
Day 8
Details for Today
Manuel Antonio:
Accommodation: Si Como No Hotel & Resort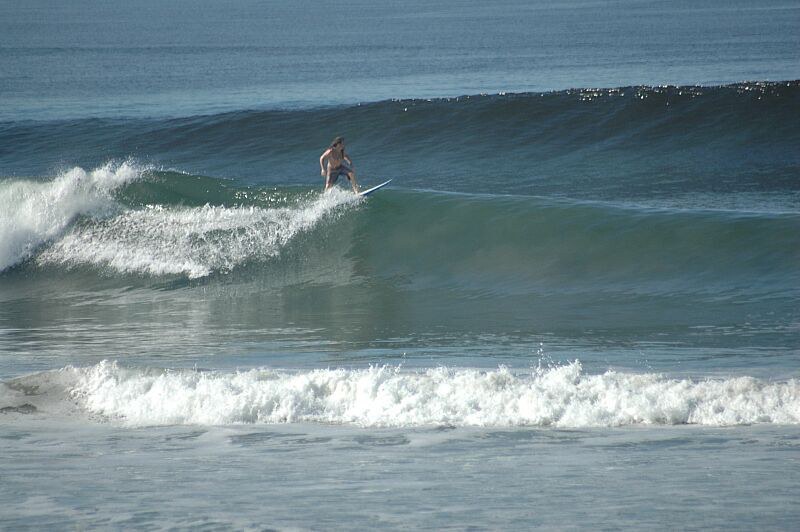 Costa Rica is a well-known place to surf, and Manuel Antonio is one of the most beautiful and surf friendly beaches in Costa Rica. Instructors are fully committed to help you stand on the board for the first time. They will teach you to read the waves, to get to the riding place and accomplish your challenge of riding your first wave.  As you learn the basics of surfing you will have the opportunity to learn about the Manuel Antonio area, its wildlife and people, your instructors are not only surfers, they are certified naturalist guides for the area. If you need a break, a beach chair and umbrella will be waiting for you along with fresh fruit and water to keep you hydrated. They cater to all levels of expertise and if surfing is a passion, consider moving around to different location and improving or mastering technique.
Accommodation
Volcano Lodge and Springs, San Carlos, Costa Rica
A basic, clean no frills hotel that is conveniently located near many of the area's attractions and 10 minutes from the town of La Fortuna. The hotel features 65 rooms of basic and simple design with a terrace that faces the volcano. There are two swimming pools and two hot tubs. Also, the hotel features a natural thermal water pool heated by volcanic hot springs. The temperature at this pool is close to 100 degrees Fahrenheit, therefore they offer a cold water Jacuzzi to compensate body temperature.  Guests enjoy the extensive gardens and trails for short walks and bird viewing opportunities. The restaurant offers a variety of local and international dishes and a full breakfast buffet is included daily. This is a non-smoking facility.
---
Trapp Hotel, Monteverde, Costa Rica
Whether you prefer comfort, the feeling of being in the middle of a charming cloud forest, or genuine family hospitality, you have chosen the The Trapp Hotel Monteverde is for you. The nearest hotel to the famous Monteverde Cloud forest Reserve, The Trapp Hotel Monteverde is a great choice for an unforgettable vacation, surrounded by a paradise of flora and fauna. You will be able to enjoy Monteverde's incomparable beauty.
---
Si Como No Hotel, En Manuel Antonio, Costa Rica
Located in Manuel Antonio, this hotel has 52 spacious rooms. The eco-friendly hotel has energy efficient lights and air conditioning, bar, a movie theatre, solar-heated Jacuzzi, and a seafood restaurant. There are sun decks and shaded areas with a view to the jungle and ocean. There's an adult pool for those over 18 and a family pool with a waterslide for guests of all ages. Both pools have swim up bars, Jacuzzis, towel service and pool side dining and service from Boca Bar Mogotes in the hotel. You may visit the Tico Rico Bar and Grill for casual dining, and for upscale dinning in a casual setting, the Claro Que Si Restaurant offers seafood specialties. Wi-Fi is available in public areas of the hotel. There is complimentary shuttle service to the beach and National Park.
Costa Rica Family Adventure (10 days)