On this 7-day private-guided trip you will stay in the Northwest of Bali, renowned for its serene environment and stunning nature. This itinerary is filled with unique and active adventures – A boat ride in a dug-out canoe, a trek through the rainforest, rappelling and canyoning, snorkelling, a land rover excursion through the rice fields, and more! All of this amid breathtakingly beautiful scenery.
Day 1
Details for Today
Welcome to Bali!
Bali:
Visit Bedugul Botanical Garden
Visit regional market at Candi Kuning
See iconic Ulan Danu Temple
Continue to Munduk Moding Coffee Plantation
Accommodation: Munduk Moding Plantation (1 Bedroom Villa with Heated Pool)
Meals: L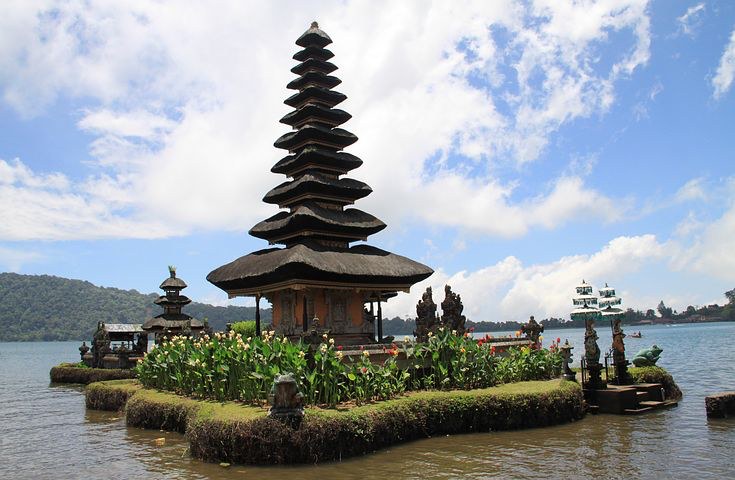 After breakfast, drive north to Bedugul Regency (district), part of the island's central highlands region renowned for its stunning beauty and three caldera lakes (Beratan, Buyan and Tamblingan). The first stop today will be the peaceful Botanical Garden. Established in 1959 and covering an area of more than 150 hectares, the gardens are home to some 2,000 species of plants and an important centre for research, conservation and education. There will be free time, for about an hour or so, to wander through this tropical setting where places of interest include the Fern Garden, Cacti greenhouse and the Aquatic Garden.
After a picnic lunch in the gardens, continue your journey with a visit to the regional market at Candi Kuning. Bali is famous for fresh fruits and exotic spices and there are plenty of seasonal varieties to discover at the market, together with stalls selling beautiful scented flowers used for ceremonies and offerings.
Heading further north, the iconic Ulun Danu Temple is the next destination. This important Hindu Shivaite water temple is located on a small jut of land within the calm waters of Lake Beratan. If the water level is high (normally only during the rainy season) it gives the illusion that this 17th century temple is 'floating' on the lake.
Continue to Munduk Moding Coffee Plantation, stopping along the way at the village of Asah Gobleg for fine views of Lake Buyan and Lake Tamblingan (weather permitting).The simple village of Munduk is one of Bali's most appealing mountain retreats. After checking in at the plantation, the rest of the day is at leisure.
On the edge of a plateau above three breathtakingly beautiful lakes, Munduk Moding Plantation is located in one of the most mountainous areas of the island. The almost five hectares of hilly, but very fertile soil, allows for just about every type of tropical vegetation to grow with ease.
Day 2
Details for Today
Munduk, Bali:
Trek through the tropical rainforest
Boat ride in a traditional dug-out canoe
Lunch in a secluded restaurant with splended views
Accommodation: Munduk Moding Plantation (1 Bedroom Villa with Heated Pool)
Meals: B, L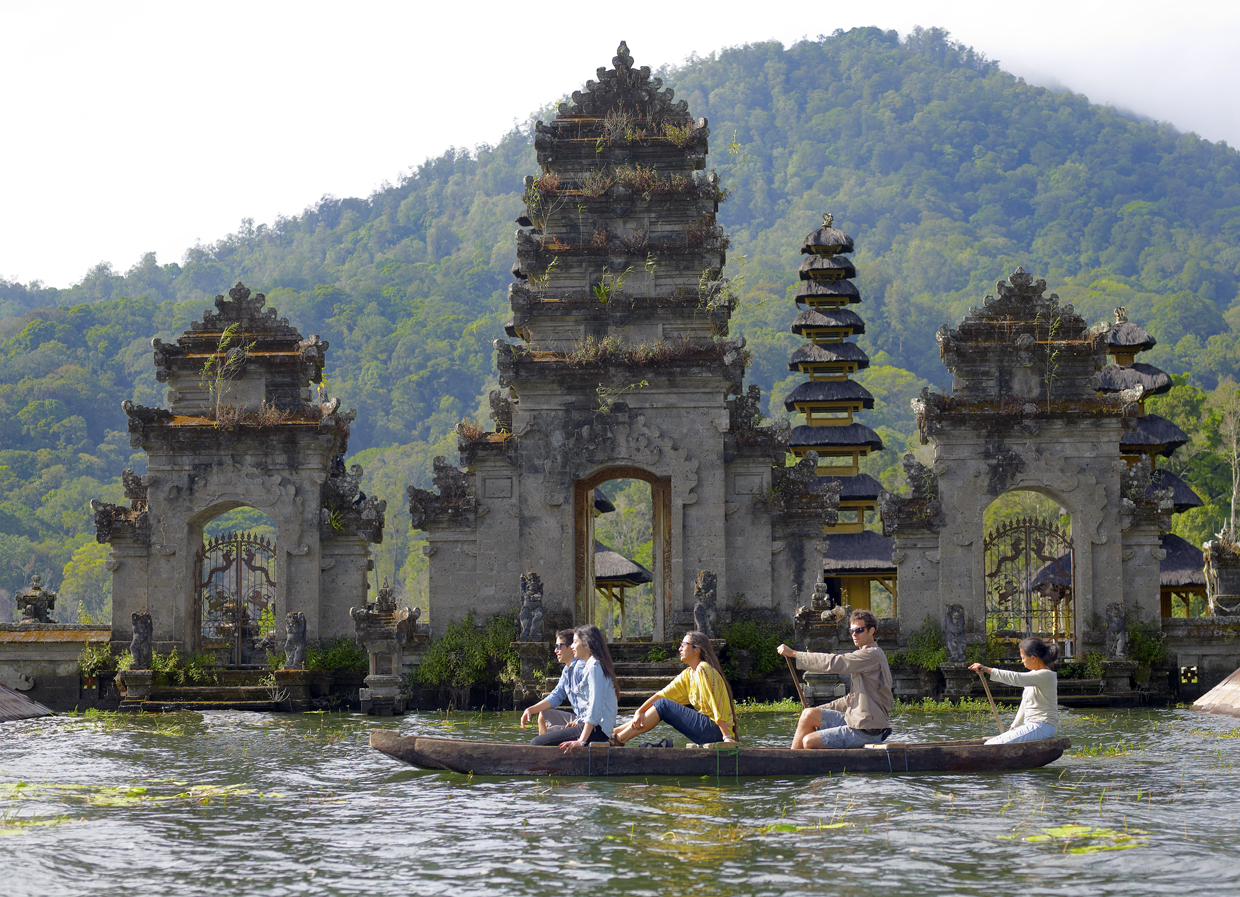 Heading in the direction of Lake Tamblingan, your day begins with a gentle trek down through the tropical rainforest that surrounds this attractive pool of water. Admire the flora and fauna and take in the clean mountain air as you hike through a region that has remained at one with nature for many centuries. Reaching the shore of the lake after approximately one hour, you will continue your journey by boat, as you are rowed across its waters in a traditional dug-out canoe. Lunch will be provided in a secluded local restaurant offering splendid views of the Munduk Hills and Seririt Beach.
Later return to the plantation, where the remainder of the day will be at leisure.
Day 3
Details for Today
Munduk, Bali:
Water rappelling and canyoning
Transfer to West Bali National Park
Accommodation: The Menjangan Resort (Beach Villa)
Meals: B, L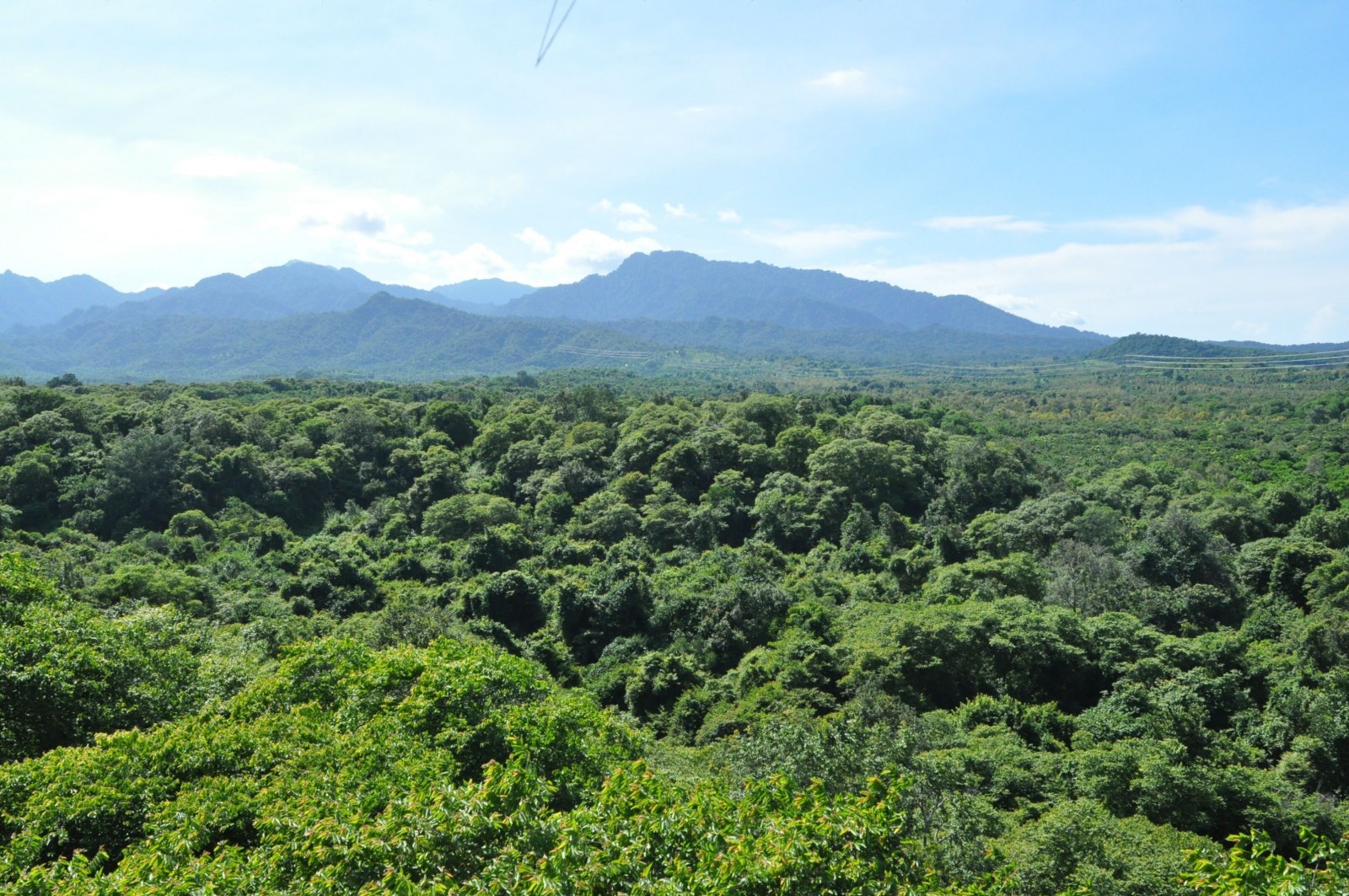 The day begins with an early morning drive to the Seririt region of northern Bali. Located in the central highlands, the region is an area renowned for its scenic beauty and gushing waterfalls and the perfect destination for water rappelling and canyoning. Refreshments upon arrival are followed by careful preparation and a full safety briefing from a certified instructor from the International Canyoning Organisation for professionals (ICOpro). You will learn how to perform slides, jumps and rappels as the adventure takes you through rivers as well as over and down spectacular looking waterfalls. It is a challenging but rewarding experience for the more adventurous.
Lunch will then be taken at a warung, the local term for a modest restaurant, and prior to returning to your island accommodation.
Leaving the resort at midday, your next destination will be the West Bali National Park. Located on the northwest coast of the island and covering an area of approximately 190 square kilometres, the park is known for its diverse habitat including savanna, mangrove swamps and coral islands.
Upon arrival you will check-in to the peaceful Menjangan Resort which is situated in the heart of the national park. The rest of the afternoon is at leisure.
Day 4
Details for Today
West Bali National Park:
Boat trip to Menjangan Island
Snorkel, swim, relax
Accommodation: The Menjangan Resort (Beach Villa)
Meals: B, L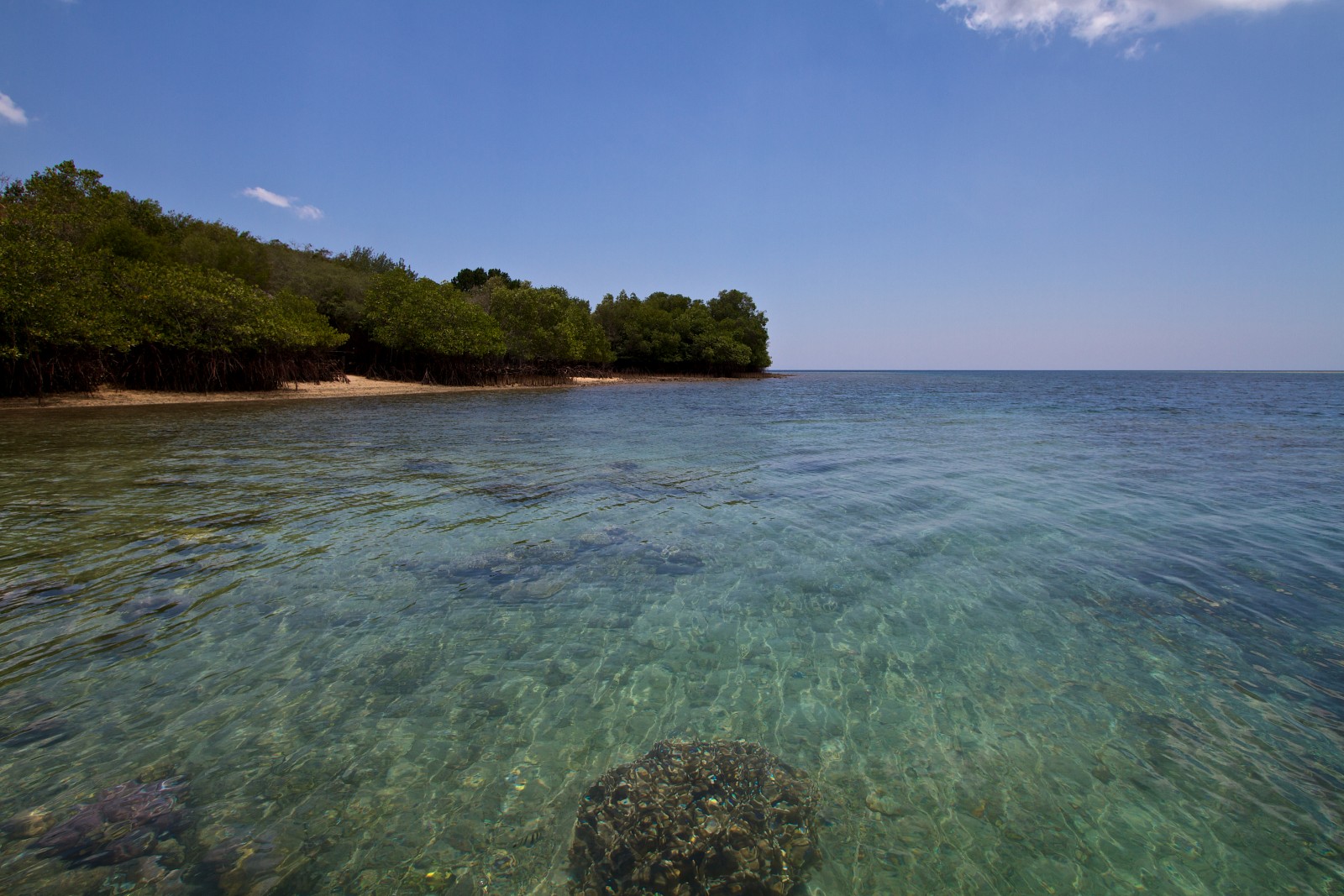 Situated approximately 8km off the northwest tip of Bali, the uninhabited island of Menjangan has one of the best-preserved coral reefs in the area. Leaving directly from the resort, you will be transported by boat to this idyllic location for a morning of snorkelling, swimming and relaxing. With excellent underwater visibility (ranging from 15 to 50 metres), there are fantastic opportunities to see all kinds of marine life including pygmy seahorses, schools of snappers and even reef sharks. The crew will present a packed lunch on the boat and if you are lucky you may spot wild deer who swim across to the island from the mainland ('Menjangan' means 'Deer' in Indonesian).
Day 5
Details for Today
West Bali National Park:
Take the morning to relax and explore the park
Visit Pulaki Temple
Transfer to Yeh Gangga, a black-sand beach on island's west coast
Accommodation: Waka Gangga (Villa with Pool Ocean View)
Meals: B, L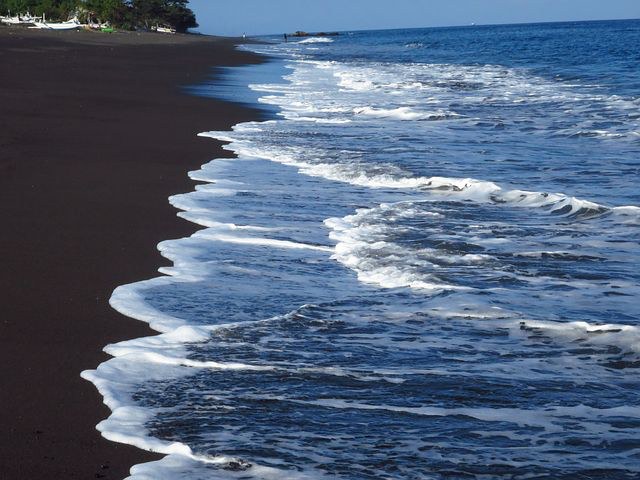 The morning is free for relaxation or further exploration of the national park. You will be collected at approximately 12 noon to visit the nearby Pulaki Temple. Ornate in design, this place of worship is built predominately from black granite stone and is home to several species of Macaque monkeys who, in Balinese belief, are considered to be the sacred guardians of the temple (*). Nestled between the mountains and the sea, this large 16th century Hindu temple is also noted for its wonderful location.
After ample time to appreciate the temple and its enchanting setting you will continue south to Yeh Gangga, stopping for lunch in a local restaurant along the way. You will stay at the delightfully positioned Waka Gangga located on a pristine black-sand beach on the island's west coast. A warm welcome and a spectacular sunset awaits.
*NOTE: The macaque monkeys here can be a considerable annoyance. Please heed the advice from your guide on the precautions you should take when visiting temples or forests inhabited by monkeys.
Day 6
Details for Today
Yeh Gangga:
Land Rover excursion through superb countryside
Jatiluwih rice terraces
Batukaru Temple
Accommodation: Waka Gangga (Villa with Pool Ocean View)
Meals: B, L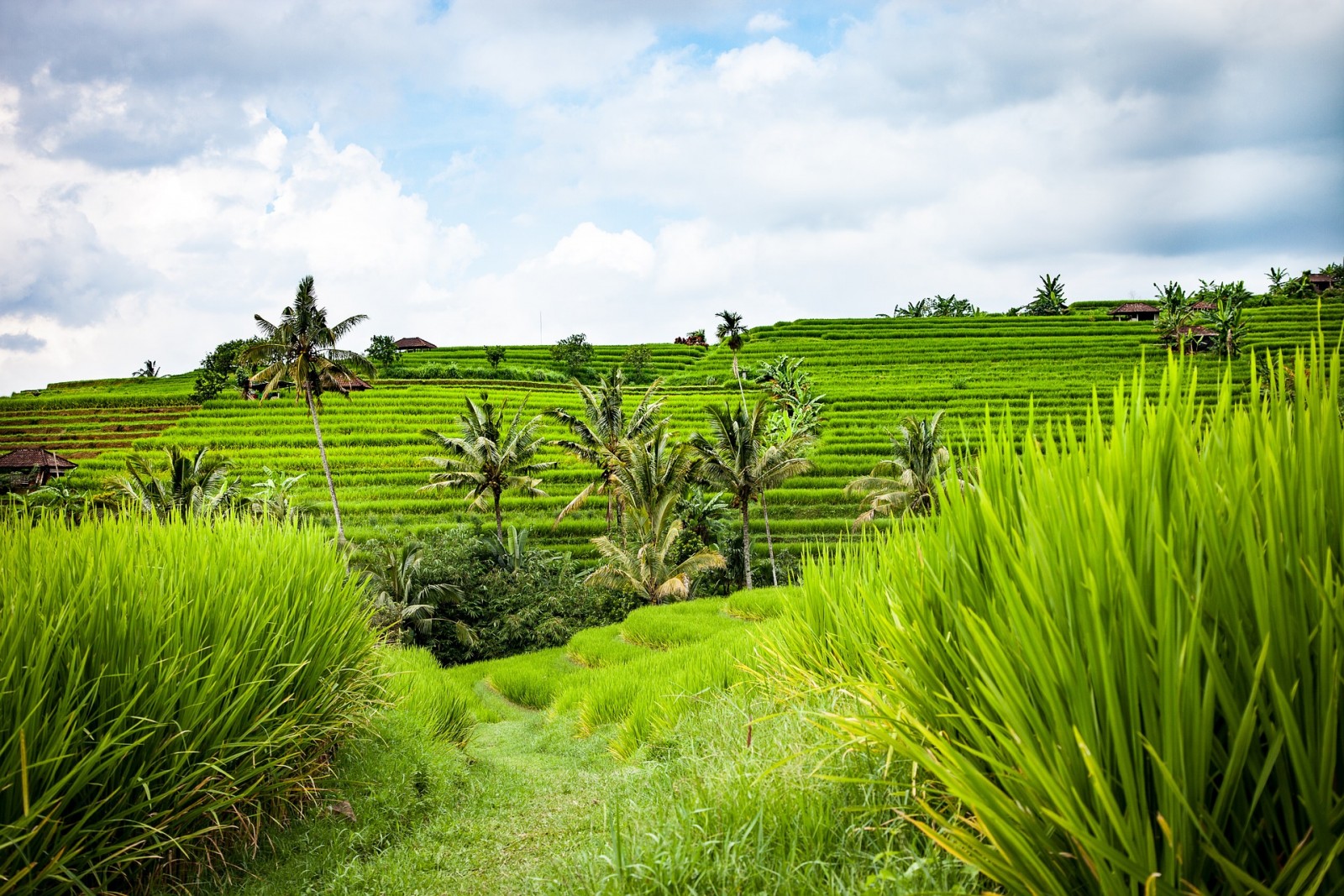 Using customised Land Rovers as the mode of transport, today's excursion goes off-road and heads into the superb countryside surrounding Gunung Batukaru, Bali's second-highest mountain. The goal is the attractively-set bamboo forest restaurant, which is set deep in this mountainous region of the island and the location for today's lunch. But, there is so much to see and take in en route. This is the heartland of Bali where verdant rice paddies, traditional villages and friendly Balinese await. Highlights include the seemingly endless UNESCO-recognised rice terraces at Jatiluwih(*) and the dramatically located 11th century Hindu temple of Batukaru.
An adventurous but not at all strenuous excursion, your 4X4 Land Rover is equipped with air-conditioning and comfortably seats a maximum of just six people plus the guide and expert driver. Photo opportunities abound as you explore little-visited temples and small villages and learn about the local flora and fauna during a stop at a local farm. And all the while, that 'classic' Balinese scenery is forever present, making for the most memorable of excursions.
(*) Please note the rice terraces are often wet and slippery and we recommend footwear with good grip.
Accommodation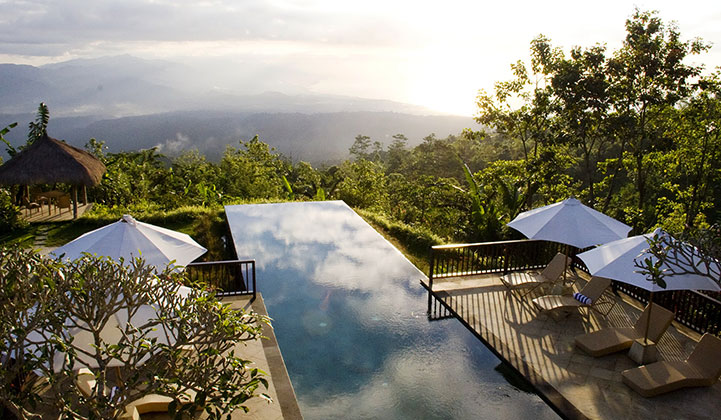 Come and enjoy the unspoiled natural beauty of North Bali in unparalleled luxury and privacy. Munduk Moding Plantation has been named the best Eco-Luxury resort in Indonesia in 2016 by the World Luxury Hotels Association. It is a luxury nature resort, spa and boutique hotel in North Bali on a working coffee plantation located close by Bali's central lakes and Munduk hill station. Our hillsides are covered with jungle, coffee trees, rice fields, and pretty much anything that grows on the island. With just a handful of villas and suites on some 5 hectares of land you can enjoy all this in privacy and genuinely relax far away from the crowds.
---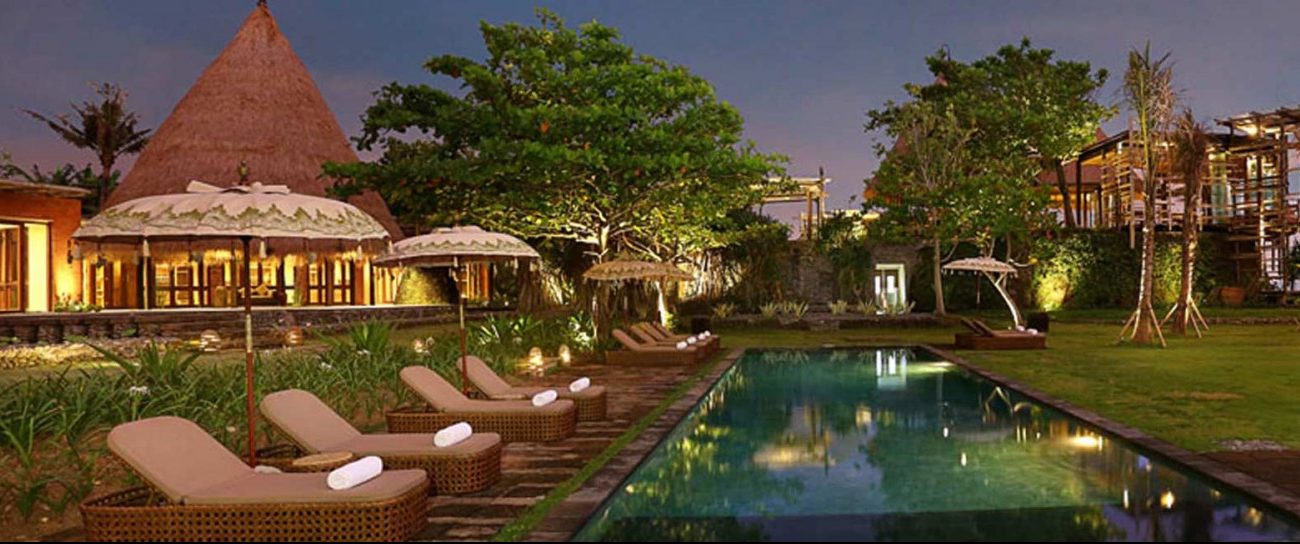 Welcome to Waka Gangga – an enchanting boutique retreat, restaurant, and spa, resting upon a headland beside the glittering black sands of Yeh Gangga Beach on Bali's west coast. Here, amid cascading rice fields under the gaze of the mighty Batu Karu Mountain, there is a feeling of harmony with all of nature's elements. Heralded by soaring conical grass roofs, the architecture of Waka Gangga is a melodious interplay of graceful lines and curvilinear forms. The delightful accommodation comprises 27 individual Balinese-style villas, many with their own private pools, and all with romantic interiors and handcrafted artistry intermingled with contemporary comfort.  An exceptional restaurant, blessed with an intoxicating view of the Indian Ocean, offers specialties from around the world, while the pampering Waka Spa invites you to nurture and renew your sense of well being. The resort's indoor-outdoor design, indigenous stones and timbers, muted colours, natural fabrics and delicate detailing is effortlessly elegant, with heaps of space, a windswept beach and a team of friendly, attentive staff to cater to your every whim. Within the manicured greenery of the gardens, a 20-meter swimming pool merges seamlessly with the sea and the sky. At Waka Gangga it is possible to recapture one's sense of self.
---
The Menjangan is a peaceful retreat located in the heart of an unspoiled national park on the stunning North West coast of Bali. It is the largest resort with 382 hectares within the boundaries of the Bali Barat National Park and offers guests the chance to get close to nature and relax in exquisite surroundings. The resort is relaxed, casual and quiet, with the emphasis very much on restoring calm and simplicity to stressed minds and bodies.
Bali's Northwest – Nature in Style (7 days)